Cultivating Urban Agriculture Skills for All New Yorkers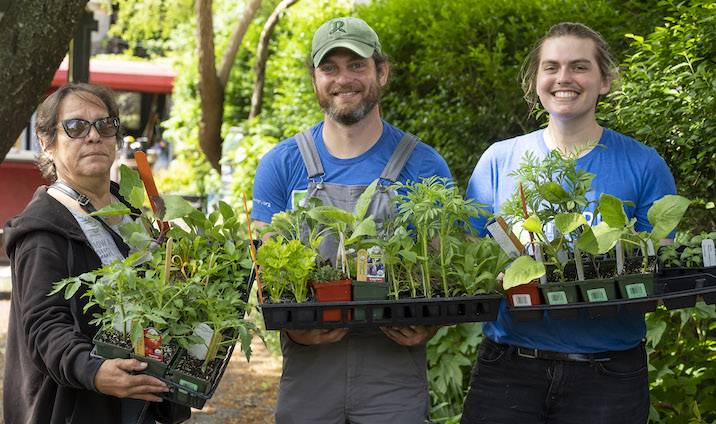 With food insecurity dangerously high throughout the pandemic, one need has been clear across our garden network: how can our spaces grow more fresh fruits and vegetables to help feed their communities?
New York Restoration Project responded early on by formalizing our first-ever Urban Agriculture (UA) team. For two years and counting, the goal has been to support our network of over 700 active gardeners in NYRP's 52 portfolio gardens and various partner spaces across the city to grow more food.
Since he started in 2021, Urban Agriculture Manager Corey Blant has believed the best way to achieve this goal is to meet gardeners where they are. "So many of the gardeners we work with have a wealth of first-hand and ancestral knowledge. Many folks come from cultures with deep agricultural roots," says Corey. "Whether someone is growing food for the first or hundredth time though, our NYRP Urban Agriculture team is here to help people make the most of their space."
Thanks to a generous grant from the United States Department of Agriculture—Natural Resources Conservation Service (USDA-NRCS), NYRP has already taught over 82 food production classes, skill shares, and hands-on technical consultations this year alone. Our UA team has also helped transform and support 13 new gardens through our Gardens for the City program and distributed thousands of plants and seedlings to growers across New York. When needed, much of this instruction and support has been translated into multiple languages including Spanish, Bengali, and Cantonese.
View this post on Instagram
Plans for this past season began in late winter and early spring. Seasonal Urban Agriculture Specialists Rhys Bethke and André Luiz De Olivera Domingues joined Corey to assist gardeners with crop planning and acquiring seeds and seedlings including cold-tolerant, early spring plant varieties that yield early harvests. By the end of May, the UA team had distributed more than 4,000 seedlings, 100 bare root strawberries, and 100 bags of ginger to 40 different gardens across the five boroughs with plants from Gilbertie's Organics, Brooklyn Grange, and Rise & Root Farm.
View this post on Instagram
At the same time, our UA team also hosted seasonally appropriate workshops including spring pruning and fundamental growing skills to prepare gardeners for the growing season. The team organized nine consultations and 12 skill shares throughout the month, including trellising techniques that help gardeners make the most efficient use of small spaces by elevating plants, minimizing disease risk, and ideally maximizing yields as a result.
The UA team also recruited partners with specific expertise to co-host in-demand workshops. One of the most popular was a composting workshop led by Domingo Morales of Compost Power. This two-hour session at our Paradise on Earth Community Garden in the Morrisania section of The Bronx shared how to properly manage the three-bin compost system, which is commonly found in community gardens across the city. All attendees went home with their own composting tool kit to help implement what they learned in their spaces.
As the gardens kicked into high gear, our team shifted into pest management mode to teach gardeners a variety of disease prevention and management techniques. In addition to precautionary measures like weeding and trellising, the UA team shared all-organic integrated pest management interventions including neem oil application, plant removal, and biological controls.
The latter, for example, includes spider mites, which are a common nuisance for New York City tomatoes. Our team was pleased with the results of introducing persimilis, a predatory mite that preys on spider mites. "We've released persimilis in several gardens to help control the spider mite population," says Corey. "It's so satisfying to see this biological control work in a garden in just a few weeks!"
View this post on Instagram
Now at the end of August, our UA team still has plenty of work ahead. Recent weeks in our spaces have focused on extending the growing season, maximizing harvests, and helping distribute food locally while gearing up for the fall season of garden renovations as part of our Gardens for the City program. Workshops are on the calendar, too, including a September soil testing day with Dr. Perl Egendorf of Earth Matter. Once harvesting is complete, the team, now including Seasonal Urban Agriculture Specialist Afeni Powers, will eventually help gardeners wind down their spaces and begin preparations for 2023.
Corey already has his sights set on further developing what our budding Urban Agriculture team has established so far. "I'm really excited to continue building a network of experts outside of NYRP who can also be of service to our gardeners," he says. "New York City is full of urban agriculture pros specializing in pretty much every aspect of food production, from soil testing to compost management. We've started formalizing those relationships this season and I look forward to widening the scope to eventually include all food-growing experts, whether they're based in the city or not. There's a lot of knowledge we can all share."
Want to learn from our Urban Agriculture team? Browse our event calendar for upcoming workshops or find a garden near you here.
NYRP is deeply grateful for all the donations and partnerships that have helped make this growing season successful. In addition to those listed above, we thank Bloomberg Philanthropies, Farm Credit East, Farm School NYC, High Mowing Organic Seeds, New Roots Community Farm, NYC Green Relief & Recovery Fund, Peaceful Valley Farm Garden, Smallhold, The Steven & Alexandra Cohen Foundation, and True Love Seeds
All photos by Ben Hider unless otherwise noted.