This South Bronx Community Garden Gives Away Free Produce Year-Round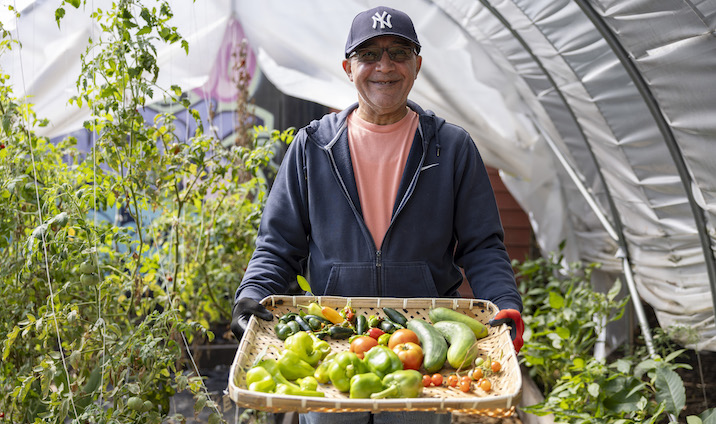 At a busy intersection in the South Bronx, one urban farm is growing and distributing hundreds of pounds of free produce year-round. 
Rainbow Garden of Life and Health is a multigenerational, multilingual, multicultural community garden and urban farm located in the Melrose section of The Bronx. The garden at E 157th St. And Melrose Ave. has existed for years but found a renewed purpose largely in response to the pandemic. 
View this post on Instagram
"We are in the poorest congressional district in the United States," describes Rainbow Garden Farm Manager Javier Francisco Merchand, who goes by Javi. "When the pandemic hit, we saw there was a lot of need." 
The South Bronx is also known to have one of the highest rates of food insecurity in all of New York City. Nearly half of South Bronx residents rely on SNAP (Supplemental Nutrition Assistance Program) assistance and only 4% of South Bronx residents are able to eat the recommended number of fruits and vegetables in their daily diet.  
COVID only worsened this stress and Rainbow saw the effects first-hand in their neighborhood. In response, the gardeners began distributing free food and masks while also providing an outdoor space of safety and solace.  
View this post on Instagram
As community reliance on the garden increased, the gardeners realized they needed to improve their garden infrastructure. They had noticed NYRP's work in green spaces throughout the city, and in 2021, decided to apply to our Gardens for the City (GFTC) program for support.  
New York Restoration Project's Gardens for the City program works with community partners in some of the city's most underserved neighborhoods to build gardens and other functional green spaces. NYRP provides the skill, time, materials, labor, and a first year of free horticultural and agricultural consultation for these projects at no-cost to the partner. 
"We had seen a lot of the work that NYRP had done at other gardens, and we knew NYRP built garden beds, which we were in dire need of," remembers Javi. "We wanted to improve the space, but we didn't know how much we could ask for." 
After Rainbow Garden applied to GFTC, Jason Sheets, NYRP's Director of Garden Horticulture and Citywide Greening Projects, came to consult with the gardeners and help make their dreams a reality. "Whatever we asked him for, Jason's follow up question was always: 'What else?'" remarked Javi.  
View this post on Instagram
In 2022, NYRP began the Gardens for the City build at Rainbow Garden with volunteer support from Willkie Farr & Gallagher LLP. In just three days, NYRP and volunteers built twelve new wooden garden beds and filled them with fresh soil; constructed a grape pergola structure along with two benches and a picnic table; planted vines and shrubs throughout the garden; spread landscape fabric and fresh wood chips around pathways; and removed a dump truck worth of trash and old lumber. A new Little Free Library was also an exciting addition to the garden's entrance.
The gardeners were elated with the new changes to the space. "The garden was alive those three days NYRP was here," remembers Maximino "Maxi" Rivera, Rainbow Garden's Coordinator. "I said, wow—this is what it's all about." 
With the infrastructure improvements, Rainbow Garden was able to convert half of their space into a farm that gives away 100 percent of its produce to its neighbors at no cost. While garden members can still have person plots on the garden side of the space, the food at the farm is grown communally by members and volunteers. 
"The renovation allowed us to start our urban farm," reflected Raihanna Jefferson, Rainbow Garden's Assistant Coordinator. "If we didn't have these renovations, we wouldn't be able to farm at all."  
In the year following the renovation, Rainbow Garden went through an optional one-year food production training with NYRP's Urban Agriculture (UA) team. Once a month, our UA team visited Rainbow to provide them with seeds, plants, supplies, skill shares, and consultations. The goal of these sessions is to guide gardeners through a growing season while helping them maximize their production. 
"Rainbow Garden is a shining star example of a community garden," reflects NYRP's Deputy Director of Urban Agriculture Corey Blant. "What makes Rainbow a special garden is the people, hands down. The group includes people with deep roots in the neighborhood who feel like the South Bronx is their home, and who want to make it the best, most beautiful corner of the city… when I am there, I see people come off the street with a question and leave with a bunch of kale or a head of cabbage." 
Rainbow Garden has gone on to garner more funding for programs and infrastructure since their formal partnership with NYRP ended in 2022. One of the biggest upgrades for their operation has been the installation of a Farm School NYC-funded high tunnel that has allowed them to extend their growing season throughout the winter. 
"I think the high tunnel was the best thing that happened to us," says Maxi. "Without NYRP, we would not have had the information about the grant program to apply." 
With the ongoing farm upgrades, Rainbow Garden has deepened their commitment to their neighbors with an abundance of free fruits and vegetables as well as a hub for community organizing and activities. They have partnerships with other community groups, provide garden activities and events for children, and are constantly dreaming of other ways that they might be a long-term resource for their neighbors.
"NYRP basically fast-forwarded us on this path," reflected Javi. "It would have taken us years to get to this place where we're growing all year, and with NYRP's help, we've increased our production multiple times over. It was like we were NYRP's plants, and they helped us grow." 
New York Restoration Project thanks The May and Samuel Rudin Family Foundation, Willkie Farr & Gallagher LLP, NYC City Council Member Rafael Salamanca Jr., and the USDA Natural Resources Conservation Service for their generous support of this Gardens for the City partnership and our urban agriculture program.