Gardens
| February 21, 2023
A Garden Leader Grows Community in Staten Island and Queens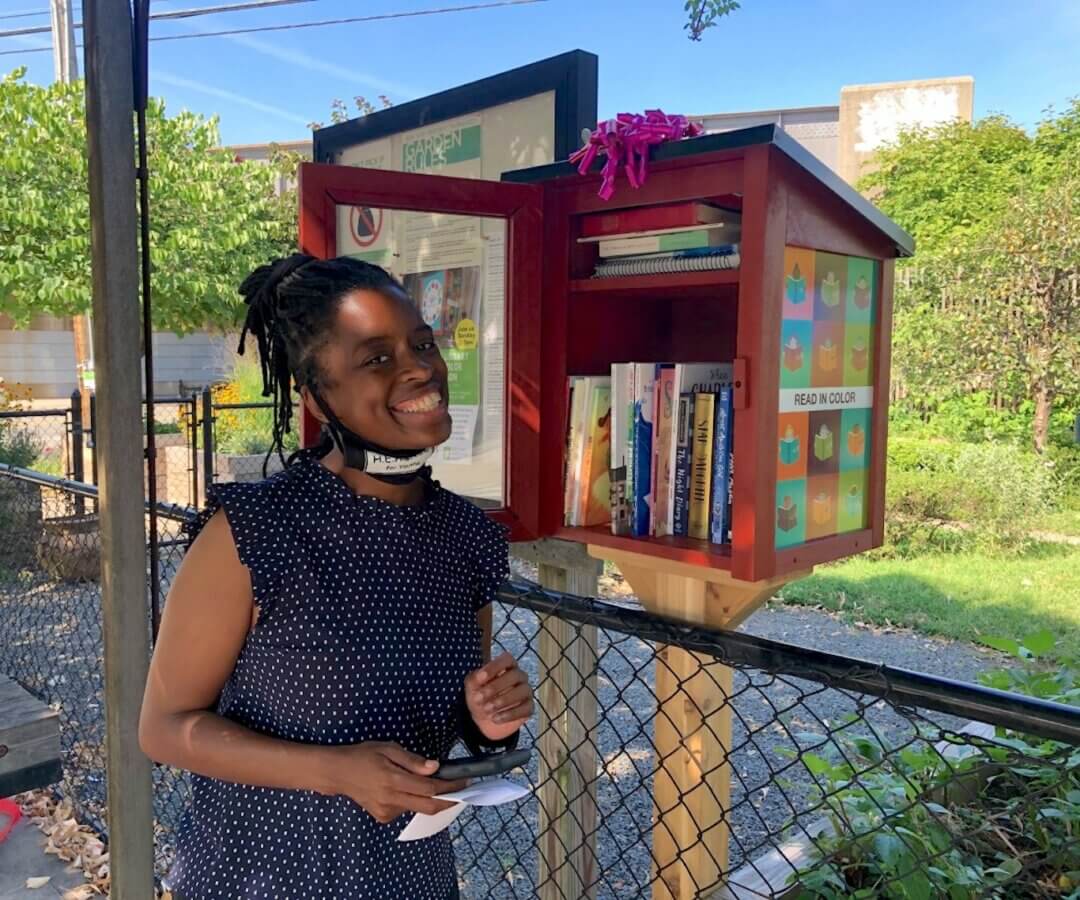 Heather Butts has been a dedicated New York Restoration Project partner and active volunteer garden member at both our Westervelt Community Garden in Staten Island and our Curtis "50 Cent" Jackson Community Garden in Jamaica, Queens for almost a decade.
When she isn't gardening, Heather works as an Assistant Professor of Health and Policy Management at Columbia's Mailman School of Public Health. She is also the co-founder of the non-profit H.E.A.L.T.H for Youths, Inc. that strives to combat community deterioration and juvenile delinquency while improving education, health care, and life skills training for youth across the city.
Over the past nine years, Heather has helped bring Little Free Libraries to over half of the 52 gardens we own and operate while organizing countless community workshops including school supply giveaways, cooking demonstrations, and fitness classes.
We recently caught up with Heather to learn more about her ongoing community work in NYRP's spaces and her plans for this coming 2023 season.
The following interview has been edited for clarity and brevity.
When and how did you get involved with NYRP?
I got involved in my NYRP around 9 years ago when I was walking through Sherman Creek Park. Since I'm a professor at Columbia, I was in that area and always loved wandering around the neighborhood. While at the park, I noticed the Riley-Levin Children's Garden in Swindler Cove and started talking with a few people and the staff. Later, when I was at a community meeting, I saw NYRP staff again and knew that this is something I want to get involved in. At the time, NYRP would host different groups at the garden in Sherman Creek, so our group H.E.A.L.T.H for Youths would join and that's how we got involved many years ago.
Nowadays you lead and are active in several community-based organizations in addition to NYRP. How has NYRP supported your work?
In general over the years, I've just tried to figure out where NYRP's blueprint is and get involved since the work is so fabulous.
NYRP's gardens have been spaces to organize everything from gardening projects and sustainability work to reading initiatives. For example recently, H.E.A.L.T.H. for Youths worked with NYRP and the organization Little Free Library to install their free book-sharing boxes at many of the gardens. The NYRP team has also helped us offer cooking demos with other organizations as well as other wellness resources including healthy eating workshops and yoga.
Another way NYRP supports H.E.A.L.T.H. for Youth's work is through the Gardens for the City (GFTC) Program. H.E.A.L.T.H. for Youths operates Skyline Community Garden at the Skyline Park and Playground in Staten Island where, in the past, NYRP has donated a compost system. Now this year, the NYRP program will help us totally redesign and renovate part of our new garden space, which is pretty epic!
What's your vision for this new Skyline space and how is NYRP helping bring that to life?
One of the major things we plan on adding to the space is a traditional Lenape garden with the Lenape Nation of Pennsylvania. Also, since COVID hit, H.E.A.L.T.H. for Youths has spent a lot of time thinking about how we can help the communities we serve in various ways. One way has been to create open gardens where people can get fresh fruits and vegetables on their own without having to deal with a locked garden or a space that they can't access. We hope to help achieve that through this garden.
We of course plan on adding a Little Free Library to the space, too, and the NYRP crew also had the idea to install a rainwater catchment system as well.
View this post on Instagram
How do you see NYRP's work and dedication to green space helping keep communities healthier?
The gardens that NYRP builds and maintains keep people and communities healthy in several ways. There's the psychological impact of a garden. There, people have the ability to self-actualize and grow their own food and having that level of autonomy is very powerful. You would be surprised how many people have never actually seen a beet grow. We'll harvest beets with the students, and many will ask where the juice is or "don't these come in a can?"
Another great example of this impact was when Pokémon Go was popular, we had this young person yell: "Oh, there's a Pikachu on that weed over there." I responded that it wasn't a weed, it was a carrot! The student then replied, "Well, where's the carrot?" So, I pulled the carrot out of the bed, and you would have thought that I had just invented electricity! The student didn't know that carrots grow in the ground until coming into the garden.
Most of my work at Columbia focuses on history and untold stories. Like these students' reactions showed, there's so much untold knowledge that we take for granted. Community gardens are places that can give you this level of exposure to new and different ideas that you otherwise might not otherwise easily encounter in an urban environment. Who knows what someone might take with this experience—maybe they will become a farmer? I don't know. But at least they have knowledge.
View this post on Instagram
You're great at bringing people to the garden, but do you enjoy gardening for yourself? If so, what do you grow in our spaces?
I've been a gardener for a long time. My family has a place in upstate New York and I used to go visit there as a child, so I've always been into gardening. I even garden indoors!
Overall, I think the ability to grow your own produce is incredibly important and so it's something that I've always championed. I'm also always eager to learn more from other avid gardeners, and I feel like as long as I've gardened, there's always more to learn.
H.E.A.L.T.H. for Youths is growing tons of things in NYRP's spaces! We're growing tomatoes, Swiss chard, leeks, onions, peppers, spinach, potatoes, and more. We're even growing garlic over the winter right now. If you can name it, we're probably growing it!
What is one of your favorite or most rewarding memories in the garden?
One memory that sticks with me was when one of our students who was struggling in school and having a difficult time would come out to the 50 Cent Garden. The student lived over in The Bronx but would join us in Queens at the garden with some other peers or friends. I asked them why they were coming all the way from The Bronx since it's not exactly around the corner, and she replied that the garden was a space for her to get a break from everything else going on in the rest of her life. The garden offered a level of solitude that was helpful for her. This is telling because to me, yeah, community gardens are places to grow things in, but they also serve as a refuge for people. So, that's important. That's powerful.
What advice would you give someone who's curious about getting involved with a NYRP garden?
I would say to remember that it's your space! The beauty of NYRP is that they've created over 50 permanent oases for people to use as they want. They're not closed-off spaces. NYRP's gardens are for everybody to be as imaginative and creative as they can be!