Gardens
| July 26, 2022
Little Free Libraries Arrive at Half of Our Gardens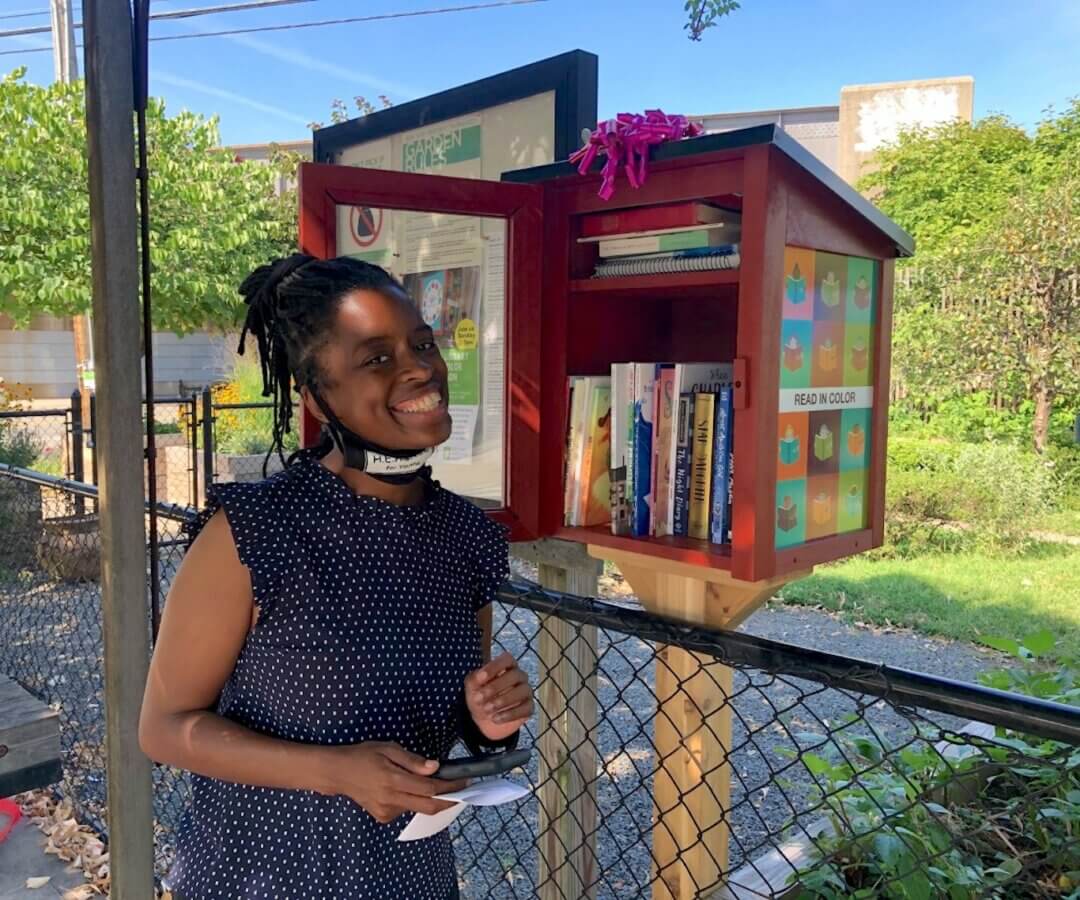 Our parks and gardens provide neighborhoods with more than just a place to grow food or get outside: they're classrooms, event halls, fitness centers, and most recently, libraries.
Since 2020, we've worked with the Little Free Library organization, community groups, and generous donors to install their free book-sharing boxes at almost half of our gardens citywide. Thanks to this partnership, 25 of our 52 portfolio gardens and three of our Gardens for the City partners have free libraries to bring new, free, and diverse reads to their neighborhoods.
With the motto "take a book, share a book," Little Free Library (LFL) works to increase reading access through a network of volunteer-led book-sharing boxes. They are the world's largest book-sharing movement with over 150,000 libraries distributed globally that exchange more than 70 million books a year.
In the early 2020 days of the COVID-19 pandemic, our Westervelt Family and Community Garden in Staten Island was the first NYRP location to receive a Little Free Library thanks to a donation from Heather Butts, the founder of the local non-profit H.E.A.L.T.H. for Youths. "The Little Free Libraries are an important tool to support literacy for youth and adults," explains Butts. "With LFL in NYRP gardens, we're now able to organize reading programs, give students the opportunity to participate in the New York City LFL Summer Art Contest,* and host book giveaways across the city."
After seeing the library's success at Westervelt, Butts donated another Little Free Library to our Curtis "50 Cent" Jackson Community Garden in Jamaica, Queens as part of LFL's Read in Color initiative. These select libraries specifically stock diverse books that "provide perspectives on racism and social justice; celebrate BIPOC, LGBTQ+, and other marginalized voices; and incorporate experiences from all identities for all readers." While not all of our LFLs are specifically Read in Color libraries, our donors and Engagement and Programming team ensure that each new installation is initially stocked with inclusive books that represent the diversity of the community.
Once our Read in Color library at our 50 Cent Community Garden gained publicity, Daryl Murphy, founder of Miles for Justice, reached out to NYRP to help fundraise and raise awareness. Miles for Justice is a grassroots initiative in which Murphy runs three miles or more every day in protest of systemic inequality. Each run raises money to purchase Little Free Libraries for underserved areas around the country. After learning more about NYRP's mission and network, Murphy was excited to support six libraries across our garden network.
View this post on Instagram
After these installations gained traction, we received a generous donation of 20 additional libraries from longtime NYRP supporters Diane and Clyde Brownstone. Our Engagement and Programming team worked diligently to distribute these libraries to spaces where they would make the most impact. Our team selected gardens based on expressed interest while also considering factors like a garden's proximity to a school and alignment with partner organizations. Thanks to book donations, including from the NYPL Tompkins Square Branch, every NYRP library comes initially stocked with 10 books.
Many of our groups have commissioned local artists or garden members to decorate their new box in unique ways. "We wanted our LFL to reflect our garden and community: alive and resilient," explains Crystal Eng Won, the garden coordinator at our Herb Garden in East Harlem. "Now our LFL is a beautiful reminder of who we are: strong and vibrant!" The garden group unveiled their new library last October with a ribbon-cutting ceremony paired with a stories and s'mores event.
NYRP gardeners and New Yorkers of all ages are always curious to see what's behind their library's doors. "The library is a diversion from everyday life for some of our community members," explains Crystal. "For our younger members, it's a bit of a thrill. I love watching kids run, ride or scooter up to the library to see what goodies they can find." 
Find a garden near you here and see if it has a Little Free Library listed as an amenity. Interested in getting involved? NYRP is always accepting book donations to keep our libraries full of vibrant stories. Please email [email protected] to learn more.
* We're calling all NYC-based student artists for some design inspiration! We invite all New York City artists age 11-17 to submit their design for five Little Free Libraries participating in the Read in Color program that helps bring diverse books to communities citywide.
The grand prize includes having your winning artwork featured on five local Read in Color libraries; eight New York City Football Club tickets; and a $250 bookshop.org gift card! Read more and enter here.