Expanding a Washington Heights Church Garden to Fight Food Insecurity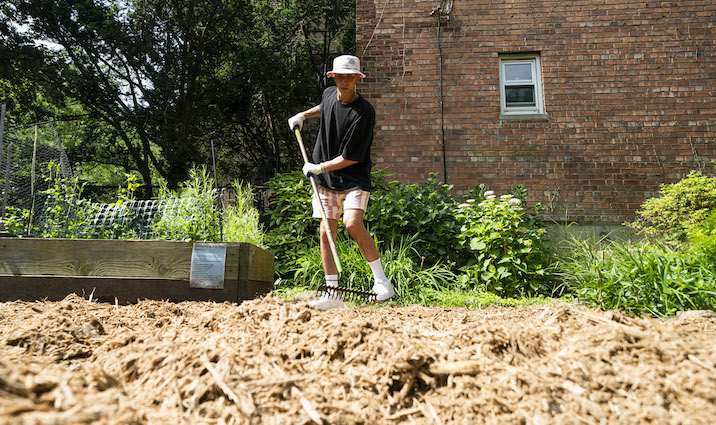 Where some see vacant land, we see the possibility of a garden. This idea is the core of our decade-old Gardens for the City (GFTC) program, which teams up with community-based organizations to transform their underutilized open space.
On June 8, 2021, we joined forces with Krost, a fashion brand focusing on creating a positive impact throughout the city, to revisit and revitalize a past GFTC community garden at Our Savior's Atonement Lutheran Church in Washington Heights.
NYRP initially built the church's garden in 2015, but since the onset of COVID-19, food insecurity in New York City has risen nearly 40 percent. The church's Pastor John Flack asked us to return to the site this year to build additional garden beds for more community members to grow their own food.
Over three days, our crews and Krost volunteers successfully planted two trees, three shrubs, and 230 perennials. We also cleared and terraced 1,500 square feet of neglected slope to build four new raised garden beds complete with nine yards of clean soil. To help members access the new beds, we constructed accessible pathways. Materials for garden bed construction were generously underwritten by Greenacre Foundation.
The upgraded garden will supply over 1,250 pounds of fresh, organic produce each season for families and members of the local community. In response to garden upgrade, Pastor John said, "Thankfully, with the leadership of NYRP, we've been able to revitalize our space, and now the whole street comes to meditate, talk, pray, and plant."
NYRP launched and formalized the GFTC program in 2011. Since then, we have successfully added nearly 250 gardens to the city landscape. Once a project is complete, our community partners take the lead in stewarding the space and making it their own. You can learn more about the program and apply here.
Every purchase from the KROST x Barneys New York Second Collection donates $5 to our Seeding the City campaign to help fight food insecurity throughout New York City.