Building a Staten Island Garden to Explore Queer Ecology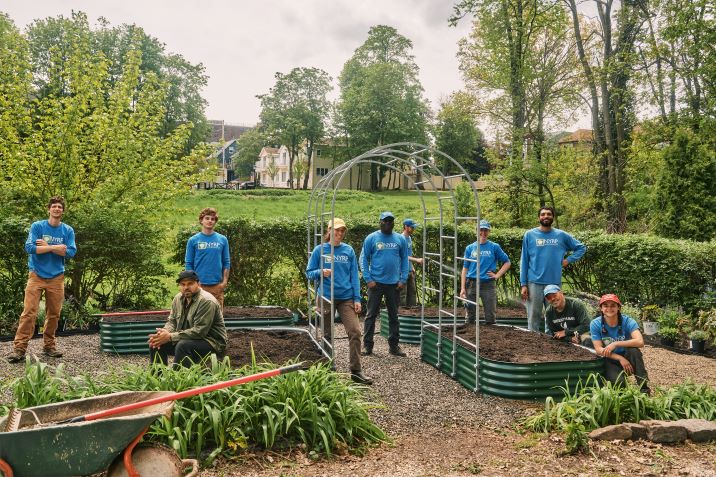 This NYRP project was also featured in The New York Times on June 1, 2023.
In the late 1800s in New York City, there were few activities women could acceptably do outside of the house without male supervision. Gardening was one of them, and the late lesbian photographer Alice Austen knew this.
Austen was born in 1866 on Staten Island and came of age in the Victorian era but subscribed to very few of the social mores of the time. She was introduced to photography at the age of ten and soon converted a closet in her home into a makeshift darkroom. Out of this darkroom Austen produced over 8,000 photographs of New York City at the turn of the century and was one of the first American female photographers to work outside of the studio. She helped found several social clubs on Staten Island, including a biking club and Staten Island's first official garden club where she met many of her female companions.
View this post on Instagram
For Austen, gardens represented an oasis and a hideaway in a world that was hostile to women, especially queer women. Gardening allowed women an acceptable avenue to escape the strict Victorian gender roles and spend time with other women without the permission or presence of men. Her garden was both a photographic muse for her and a safe space for her female cohort.
View this post on Instagram
Victoria Munro, the Executive Director of the Alice Austen House Museum on Staten Island, reached out to New York Restoration Project's Gardens for the City program in 2022 with the vision of honoring Austen's love for gardening by establishing a modern iteration at the museum called the Queer Ecologies Garden Project.
Our Gardens for the City program works with community partners in some of the city's most underserved neighborhoods to build gardens and other functional green spaces. We provide the skill, time, materials, labor, and a first-year of free horticultural and agricultural consultation for these projects at no-cost to the partner.
NYRP Director of Garden Horticulture & Citywide Greening Projects Jason Sheets received the application and accepted the project for 2023 construction almost immediately. He also involved NYRP's Urban Agriculture team at an early stage to advise on plant selection. The team in-turn introduced Victoria to local garden consultant and artist Marisa Prefer who specializes in queer horticulture.
View this post on Instagram
Like the havens that Austen and her peers escaped to, Munro hoped this iteration would be a gathering place and safe space for the LGBTQ+ community of Staten Island and beyond. The Alice Austen Museum has a long history of collaborating with local Gender and Sexuality Alliance (GSA) groups, who Munro had in mind when thinking of the garden. "We were interested in creating ways for those students to keep on engaging with us outside of the school year, and our museum is very small, but we have this open green space," Munro explained to NYRP.
The plan from the beginning has always been to build a garden full of "queer plants," or plants that have historically been significant to the LGBTQ+ community or illustrate the lack of reproductive and gender binaries in nature. "I tried to choose plants that have both these feminist literary histories," Prefer explained. "Pansies and violets have a lot of queer literary history. Sappho wrote a lot about violets, and purple is a historically queer color."
Prefer also chose plants that showcase this fluidity in nature. "Most plants have multiple genders, generally speaking," Prefer elaborated, and gave the example of one such plant they planned to feature in the garden. "Jack-in-the-pulpit is a woodland plant that is native to the northeast. It can switch gender from year to year. So, one year it might produce a fruit, and another year it might produce a flower, and still another year it might just produce pollen." Plants like this provide ample opportunity for museum programming and education around LGBTQ+ history, horticulture, and ecology.
Sheets took this overarching vision and helped make it a reality. Together with Munro, he helped design a garden that would incorporate ornamental planting beds for the plants that Munro and Prefer researched, community garden beds that would provide educational and programming opportunities for LGBTQ+ youth in the area, and native shrubs and perennials that would honor Staten Island's natural beauty.
Then, in early May, NYRP broke ground. In a day and a half, the team prepared the land by removing invasive trees; transplanting some existing perennials; assembling four Vego Beds with an attached trellis and filled them with soil; laying out landscape fabric and spreading gravel as a pathway material; assembling four metal benches; installing metal edging; creating ornamental planting beds; installing 30 new perennials and shrubs; mulching and watering in the plantings; and trimming the existing forsythia hedge. Our Urban Agriculture team also provided mushroom logs inoculated with shiitake spawn.
"It was a great pleasure working on the grounds, transforming a barren piece of land into something usable, and also for our staff to learn more about Alice Austen in the process," Sheets said of the project. "The museum is doing incredibly important work on Staten Island, and we hope that the garden will be provide an ideal venue for the community to gather and learn about plants and Alice Austen's legacy."
Now that the Queer Ecologies Garden Project construction is complete, it will become a regular meeting location for GSA students from across Staten Island and a site for the museum's LGBTQ+ Photographic Storytelling program, a photography-centered program where LGBTQ+ students and seniors congregate and interview each other. With the garden, the storytelling will become entwined with the museum's ecology: "As we move forward in the program," Munro said, "students will be involved with active storytelling, representing the plants and giving them voices to talk."
The Queer Ecologies Garden Project will be maintained by the museum staff, Marisa, and students from the GSA groups. NYRP's Urban Agriculture team will continue to support the garden with resources, maintenance, and advice. "I am thankful for this amazing contribution of physical strength and sweat that the New York Restoration Project has given us," said Munro. "It is going to be a really exciting space to watch for us."