Parks
| April 6, 2022
A Guided Walk Through One of Manhattan's Last Forests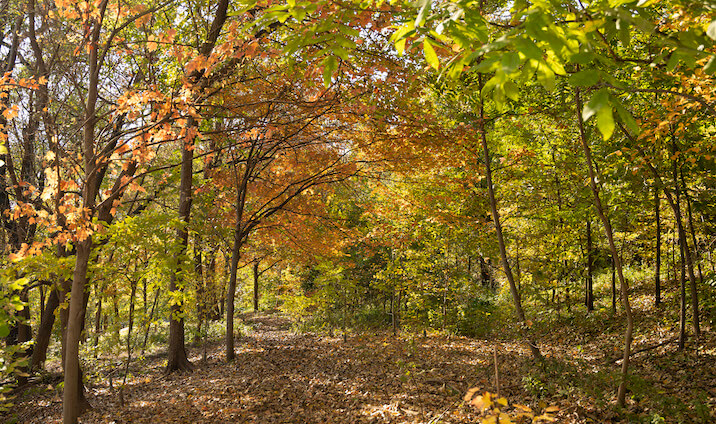 This piece was originally published by The Steven & Alexandra Cohen Foundation.
In New York—the densest city in the United States—parks, gardens, and natural areas are some of our most cherished public places. Not only do these spaces beautify our neighborhoods and offer opportunities for recreation, they also provide health and psychological benefits, bring neighbors of diverse backgrounds together, and connect us tangibly to the natural world that can sometimes feel so distant. In a city of apartment buildings, they act as big, communal backyards. And in a world experiencing the effects of climate change, they provide habitat for wildlife, absorb stormwater, filter air pollution, and help cool our neighborhoods.
New York Restoration Project's mission is to make these spaces and their benefits accessible to all New Yorkers, and since our founding in 1995 we've championed lesser known and under-resourced parks, especially in the low-income communities of Northern Manhattan. For National Take a Walk in the Park Day, we invite you to join us for a virtual walk through Highbridge Park, one of Manhattan's last forests.
Rising unexpectedly out of the dense urban fabric of Northern Manhattan, Highbridge Park is a rocky oasis of cliffs, glens, woodlands, and nature trails. Named for the High Bridge—NYC's oldest bridge, originally constructed in 1848 to carry drinking water from The Bronx into Manhattan—the park consists of 119 wild acres, stretching from 155th to Dyckman Street in the Washington Heights and Inwood neighborhoods.
NYRP has managed the northern half of Highbridge Park in partnership with the NYC Department of Parks and Recreation since 1999. The partnership began after NYRP undertook a major cleanup effort that removed tens of thousands of pounds of trash, tires, and abandoned cars from the park. Under our stewardship, this half of Highbridge has been transformed from an illegal dumping ground into a thriving home for wildlife and green getaway for local residents
1. Descend the Grand Staircase (Laurel Hill Terrace & West 184th Street)
Entering Highbridge Park from the historic and recently renovated Grand Staircase calls to mind the park's earliest days in the 1880s, when it was first designed by the landscape designer Calvert Vaux (of Central Park fame) and his apprentice, Samuel Parsons, Jr. Recognizing the park's importance to the local community, the City has recently invested in much-needed repairs and upgrades. The Staircase, for example, is one of the first landmarks to be restored to its former elegance, and is a great gateway to the park.
 2. Witness the Rebirth of a Near-Extinct Tree
Turning right and heading south from the Staircase, make your way along the park's trails till you come to the Washington Bridge, then loop north. Along the way, keep an eye out for a single, rusted car engine to the left of the trail: a solitary reminder of the trash and debris that once blanketed the entire park.
Eventually, the meandering trail opens up onto a large experimental plot of American chestnut trees planted by NYRP in 2017. Once one of the most abundant trees in North America, the chestnut fell victim to a fungal blight early in the 20th century, and in just under 40 years nearly 4.2 billion trees disappeared from America's eastern forests. In partnership with NYC Parks, the USDA Forest Service, and The American Chestnut Foundation, NYRP has reintroduced a potentially blight-resistant variety to Highbridge Park, in what is the largest planting of its kind in the country. Findings from our ongoing monitoring may inform future plantings in other urban forests and encourage the reintroduction of this iconic tree to its historic range.
3. Imagine the past at Juan Bosch Plaza (Amsterdam Avenue & West 190th Street)
Retrace your steps back to the Grand Staircase, then further north along trails lined by oaks, elms, beeches, and a dozen other varieties of trees, till you come to Juan Bosch Plaza. While it's hard to picture now, this tranquil area between West 190th and 192nd Streets was once home to Fort George Amusement Park, sometimes called "Harlem's Coney Island." From 1894 to 1914, this two-block stretch boasted a vaudeville stage, three carousels, two Ferris wheels, and no less than three roller coasters, not to mention a casino, four music halls, five saloons, nine shooting galleries, multiple hotels, and a pony-racing track. Running alongside the waterfront, the Harlem River Speedway was a popular destination to watch horse and carriage races. In 1914, a fire destroyed most of the park, and today the area is once again forest.
4. Admire Highbridge's Rare and Unique Species
From Juan Bosch Plaza, head north deeper into the Park's native forest, where NYRP has spent the last 20 years replacing invasive species with natives such as red oak, hickory, sweetgum, black cherry, and dogwood. You might also find native edibles like raspberries, blackberries, and grapes. Once the home of the Revolutionary War-era Fort George (which gives the surrounding neighborhood its name), this stretch of the park is now one of the wildest areas of Manhattan, crisscrossed only by hiking paths and mountain bike trails. Keep an eye out for snakes, raccoons, groundhogs, and even an occasional coyote. The forest is also home to a species of mouse that is genetically unique to the park, as well as the rare Northern dusky salamander, once thought to be extinct in New York City. NYRP's stewardship of the park actively restores these species' habitat by protecting streams, preventing erosion, and enhancing biodiversity.
Across New York City and in urban areas around the world, parks like Highbridge show us that public green spaces can accommodate and people and wildlife at the same time. Urban parks are both beautiful and beneficial, and when properly stewarded they offer a glimpse into our city's ecological history. NYRP is grateful for the support of our partners, like The Steven & Alexandra Cohen Foundation, who help make our work possible.