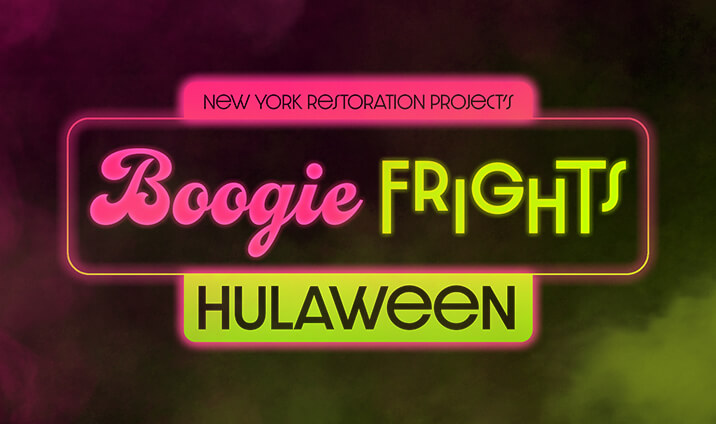 Back to All Events
Past Event
Boogie Frights Hulaween
Ticket and table sales have closed, however you can still make a donation to support NYRP's work! Please contact [email protected] with any questions.
On Friday, October 29, all the glam of the 1970s is back at New York Restoration Project's Boogie Frights Hulaween—live, in-person, and fully vaccinated! Dust off your boogie shoes and hustle down to Cipriani South Street for a legendary night of dancing, dazzling lights, and showstopping performances behind the velvet rope! Come revel with us to celebrate NYRP's 25th anniversary and the reopening of New York City.
NYRP's Hulaween is one of New York City's most anticipated Halloween parties every year. Described as one of the "most fashionable, talked-about and dress-to-impress" parties in NYC by The New York Times, the star-studded costume gala raises crucial funds for NYRP's work cleaning and greening the city.
Actor and comedian Mario Cantone will be our Master of Ceremonies for the evening, which will feature a live performance by two-time GRAMMY Award winner Gloria Gaynor. Michael Kors, fashion designer and NYRP Trustee, will judge our annual Costume Contest and Brooklyn-based Thorgy Thor of Rupaul's Drag Race will be our Red Carpet Correspondent, posting behind the scenes footage directly to our Instagram throughout the evening—be sure to follow!
Lance Le Pere will receive the Wind Beneath My Wings Award for his longstanding support of NYRP and Miriam Wheeler, Co-head of the Americas Real Estate Financing Group at Goldman Sachs, will receive the Green Goddess Award for her commitment to serving underserved communities in New York City.
Following all COVID precautions, we look forward to welcoming you to an evening of cocktails, music, booty shaking, and great 70's costumes to support NYRP. Please note, proof of being fully vaccinated with a World Health Organization approved COVID-19 vaccine as well as proof of a same-day negative COVID-19 rapid test will be required to attend. 
Seeking costume inspiration? Browse our look book!