Expanding a Sprawling Community Garden in East Harlem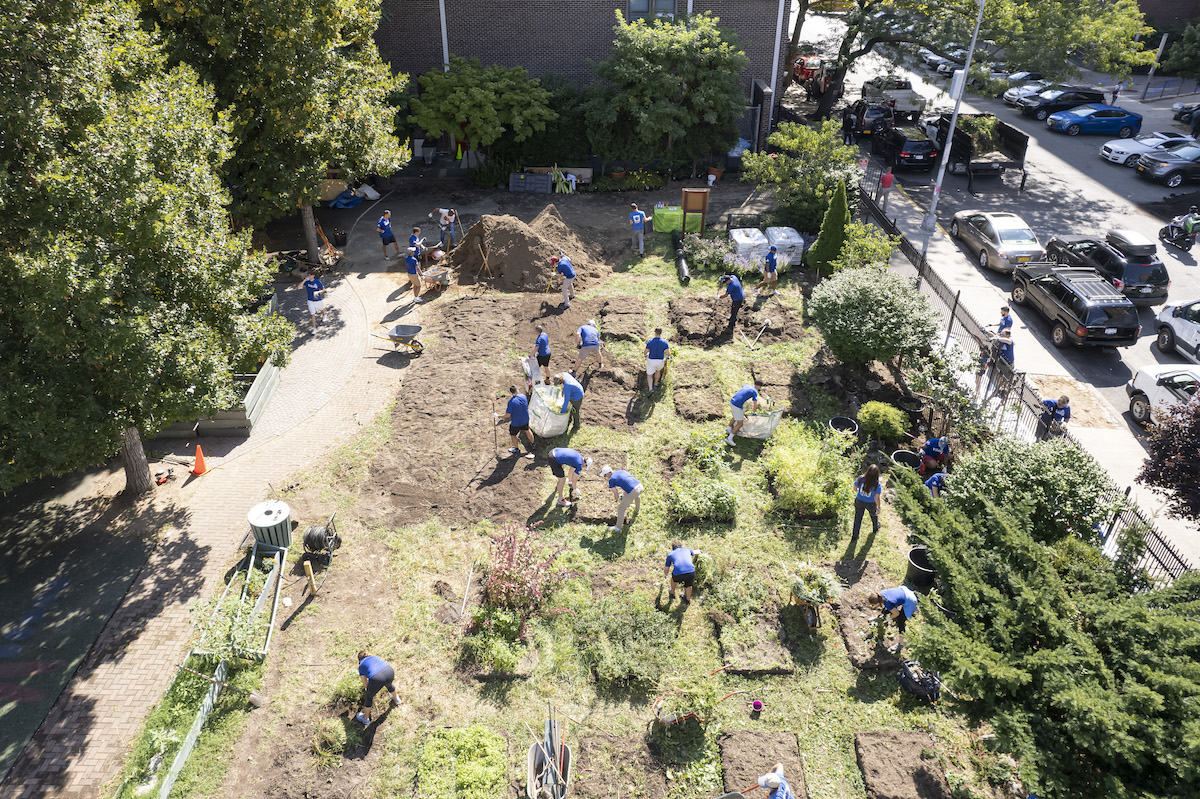 The Viking Global Foundation has worked with New York Restoration Project for seven consecutive years, undertaking each season the largest garden renovation project we offer. They seek out projects that involve a complete redesign, which are many times larger than our average project. In September 2022, more than 100 "Vikings" teamed up to expand and revitalize Union Settlement's half-acre outdoor space in East Harlem.
Union Settlement has been the largest service-providing non-profit in East Harlem since its founding for 125 years ago. It seeks to create opportunities for residents of all ages and cultural backgrounds through various education, wellness, and community-building programs. "We're a source of strength and beacon of hope for a community that has been historically underserved," explains Jennifer Geiling, CEO of Union Settlement. "Our programs and services reflect the needs of our evolving neighborhood."
Its sprawling garden at their E 104th Street location is integral to this mission. It has served as a community space for years but needed the attention and funding that NYRP and its partners seek to provide. "The garden is a lovely representation of who Union Settlement is," explains Geiling. "It's a venue for events, programming, and get-togethers." This includes everything from enjoying nature to growing fresh food.
Union Settlement began examining its outdoor space last summer. While they had found success with the area alongside 104th Street, they knew they could make better use of the westernmost plot that stretches north to meet 105th Street. They then reached out to our Gardens for the City (GFTC) program, which builds and renovates gardens for community partners citywide, for help.
Our Director of Horticulture & Citywide Greening Projects Jason Sheets, who leads the GFTC program, visited the site soon after and immediately recognized the potential to dream even bigger. "I noticed that there is a lot more open space that could be made, which is rare to find in East Harlem, let alone Manhattan," reflected Sheets. "I saw ways to make even more use of their space."
And he was right: with Jason's input, the new design would add 25-30% more open area by removing old fences, sprawling shrubs, and overgrown ground cover. "The level of communication, creativity, and excitement NYRP brought to this project was special," said Union Settlement COO Erika Estades. "Sheets and his team brought in design elements I wouldn't even have thought of. The NYRP staff were committed not only to the garden, but also the accessibility of the space, making sure all people of the community would be able to really use and enjoy it."
The size and scope of this project was a perfect match for our most motivated partner, Viking Global Foundation. It was no surprise when they told us they were onboard. Over two days in mid-September, NYRP welcomed 128 Viking volunteers to complete an ambitious redesign of Union Settlement's green space. Key components of the project included: repurposing, building, and installing 44 raised garden beds; constructing a new 30-foot-by-30-foot high tunnel green house as a year-round urban agriculture hub; planting over 200 shrubs and perennials; and adding new picnic tables, benches, and a Little Free Library for community members to enjoy.
Right after the project wrapped, NYRP's Urban Agriculture team hosted a cover cropping workshop the space in early October to introduce themselves and connect with gardeners for the upcoming season. Going forward, the NYRP team will be an ongoing resource for Union Settlement's gardeners.
Union Settlement has inspired the community with the potential of the new outdoor space. "There are so many opportunities that are just apparent now," said Estasdes. "Even community groups, specifically one of the neighborhood schools that haven't used the garden in the past, have asked how they could get involved."
View this post on Instagram