Parks
| October 21, 2021
Teaching Urban Ecology to Engage Students in Environmental Justice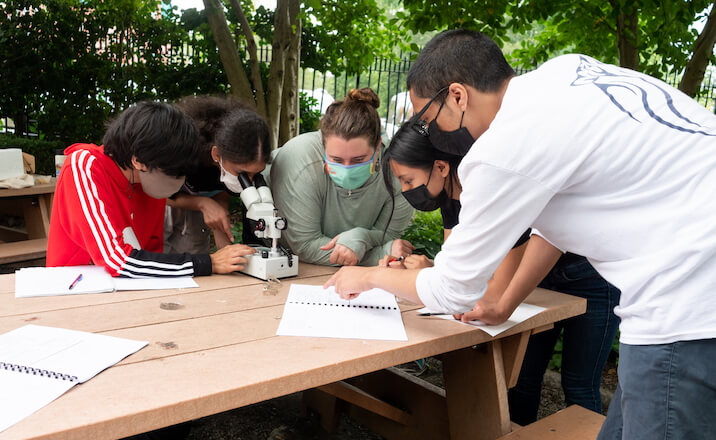 There's no question that young activists are some of the most powerful and effective environmental leaders of our time. Whether protesting the climate crisis or organizing litter removals, young people are protecting our environment at all scales. 
It's important to us to support this work at New York Restoration Project, and this summer, our Director of Northern Manhattan Parks Jason Smith helped facilitate and design the Environmental Justice and Urban Ecology Summer Research Program with students from Washington Heights Expeditionary Learning School (WHEELS) at 182nd Street and Amsterdam. 
The pilot program's goal is to develop basic field ecology skills and give students the background knowledge and resources to identify and analyze environmental injustices they encounter on a day-to-day basis in their own communities. "It's critical to give students a lot of autonomy because there's a whole paradigm shift happening within urban ecology and environmental science that governmental knowledge should be co-generated with the communities that it impacts," explains Smith. Since students participating in the program are also members of the community, Génesis Abreu, the Youth Environmental Leadership Program Manager at Friends of WHEELS, wanted to ensure that the summer research investigate themes of environmental justice as well.
Along with undergraduate and graduate mentors from  Columbia University's Department of Ecology, Evolution, and Environmental Biology (E3B) and  The Clean Air Green Corridor, students learned how to conduct community-based ecology and environmental justice research at our Highbridge Park and  Sherman Creek Park. This summer research project was also supported by the non-profit Friends of WHEELS, whose mission is to amplify youth and community power by inspiring, guiding, and advocating for youth to determine college, career, and leadership futures. 
View this post on Instagram
As part of this program, students were able to interact with and explore their local urban green spaces through research and justice lenses.  At Highbridge, students investigated questions like: "Do park plots with more invasive trees have lower understory diversity?" and "How do soil conditions affect plant diversity?". To answer, students measured trees, collected soil samples, identified plants, and installed trail cameras among other field research techniques. 
Additionally, at Sherman Creek, students investigated how pollution from combined sewer systems (CSOs) affects bacteria levels in the Harlem River. On our shorelines, students collected water quality samples, determined oxygen levels, and identified microorganisms. "I'm now super good at titrations" exclaimed Crisbelly Lopez, WHEELs Class of 2024 Youth Leader.  
View this post on Instagram
Their research found that in water samples with lower turbidity, there were higher levels of fecal indicator bacteria. They also observed that the higher levels of dissolved inorganic nitrogen, the higher the levels of fecal indicator bacteria in their samples. This is significant because high bacteria levels and low oxygen levels can threaten aquatic organism and ecosystem health. 
An undergraduate peer mentor from Columbia University Jada Tulloch explains, "Civilian science is important because everyone has the right to be in the environment and explore this place on their own. Highbridge is super under-researched so what they did this summer was new stuff that had never been done before."  
Thanks to this partnership and the students' research findings, the group was able to make connections to bigger systematic issues of environmental justice in their community while also reclaiming the park and their right to enjoy it. "I didn't even know this park was so big… a huge park right next to my house!" explains Lopez.
View this post on Instagram
To learn more about the students' findings and to see their presentations watch the community forum here. 
Special thank you to EPA Region 2's Citizen Science Equipment Loan Program for allowing students to perform pathogen testing in the Harlem River using loaned laboratory equipment, including an incubator and Idexx Quantitray sealer.