NYRP Welcomes New Board Members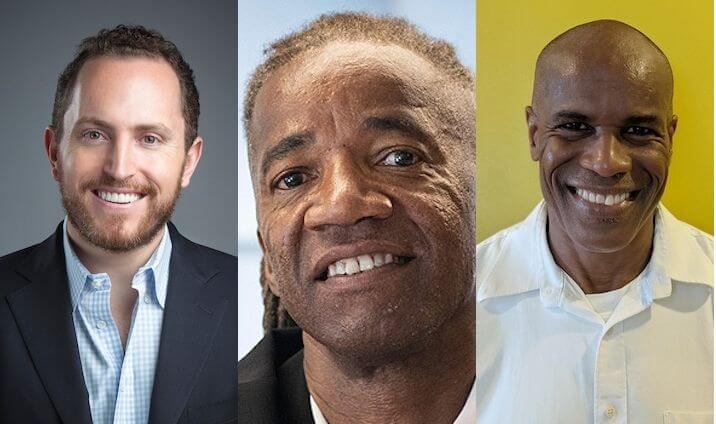 This year we're thrilled to welcome three new members to our Board of Trustees: Samuel Ashner, Walter Hood, and Erhard Marius. They share our conviction that  access to nature is a fundamental human right and we look forward to working with them to advance NYRP's environmental justice work.
Read more about Samuel, Walter, and Erhard below and see our full Board of Trustees here:
Samuel Ashner
Samuel Ashner is a Managing Director at Winthrop Capital Partners, a real estate private equity fund. Prior to joining Winthrop in 2017, Mr. Ashner served as an Associate Director at Ladder Capital Finance, where he was a member of the real estate securitization and CMBS trading group from 2014 to 2017. While at Ladder, Mr. Ashner structured, underwrote, and sold over $4 billion of real estate related securities. Mr. Ashner received a B.A in International Relations from Boston University and holds a M.S. in Real Estate Finance from New York University. Mr. Ashner serves on the Board of Directors for the Forum on Life, Culture, and Society and is passionately involved in several programs in which the Ashner Family Evergreen Foundation invests its resources—most notably the creation of Beit Ruth, a therapeutic boarding school in Israel for disadvantaged girls. Mr. Ashner is a former NYRP Chairman's Council member and joined the Board of Trustees in January 2021.
Walter Hood
Walter Hood is the Creative Director and Founder of Hood Design Studio in Oakland, California. Hood Design Studio is a cultural practice, working across art, fabrication, design, landscape, research, and urbanism. Hood is also the David K. Woo Chair and Professor of Landscape Architecture and Environmental Planning at the University of California, Berkeley. He was a guest speaker at New York Restoration Project's "Gothamitis: A Conversation on Society and the Built Environment" in March 2020, focusing on the future of urban environmental justice. Mr. Hood creates urban spaces that resonate with and enrich the lives of current residents, while also honoring communal histories. The Studio's award-winning work has been featured in numerous publications. Mr. Hood is also a recipient of the 2017 Academy of Arts and Letters Architecture Award, 2019 Knight Foundation Public Spaces Fellowship, 2019 MacArthur Fellowship, and 2019 Dorothy and Lillian Gish Prize. He is the author of numerous works, including Blues and Jazz Landscapes, Urban Diaries, and most recently Black Landscapes Matter.
Erhard Marius
Erhard Marius is an independent equities trader with extensive experience in finance and board service. Currently, he serves as Treasurer on the board of Democracy Prep Public Schools. Previously, he served in multiple leadership roles at the Spence School (Parents' Association), including Co-Leader of the Spence Parents' Association: Tapestry Committee, Family Community Service Committee, and as Co-Representative of the Diversity Council. He was an active fundraiser for the Spence School for 12 years. Mr. Marius previously worked as a Policy Analyst for the International Swaps and Derivatives Association (ISDA) and as a tax accountant for Deloitte & Touche. Mr. Marius holds a Bachelor's degree in Public Accounting from Pace University and a Master's degree in Business Administration with a concentration in Finance from Fordham University.