Restoring a South Bronx Urban Farm for Refugees, Asylees, Immigrants, and Local Residents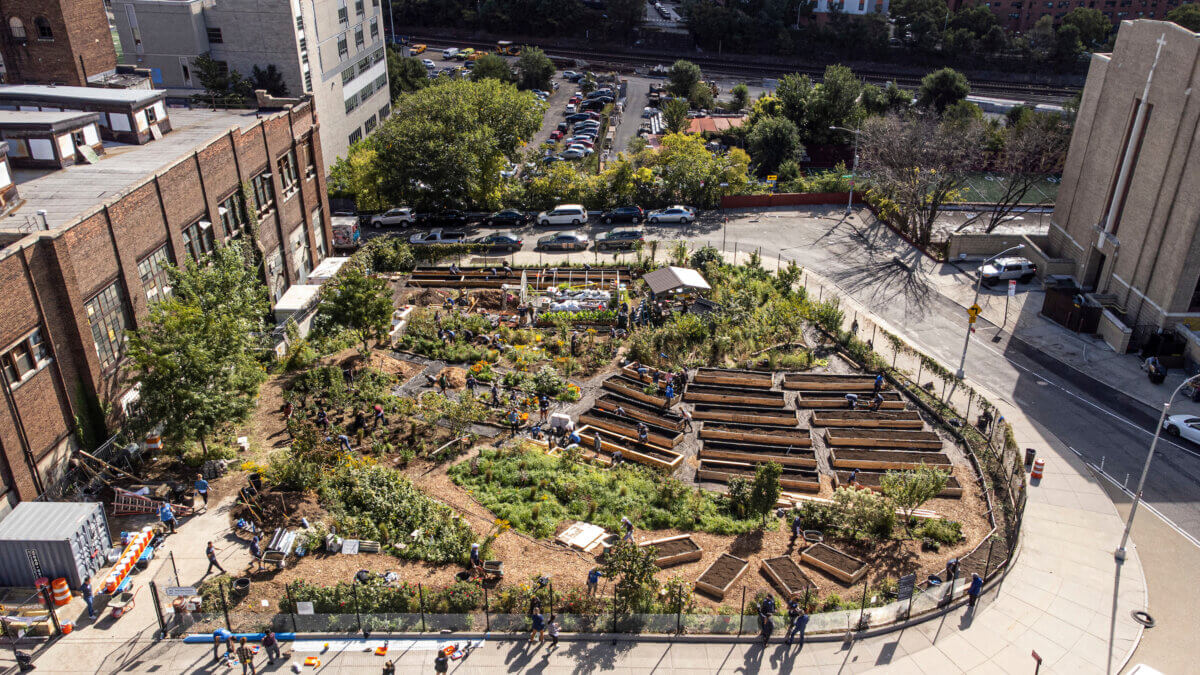 Last month, our Gardens for the City team took on one of our biggest green space renovations to date. We were excited to partner with the International Rescue Committee and the New Roots Community Farm in the South Bronx to revitalize and transform their half-acre urban farm.
Over 3 weeks, we engaged over 100 volunteers; built 26 new raised garden beds; installed a 60-foot-by-16-foot tunnel; upgraded an existing greenhouse; and planted 131 new perennials, 50 shrubs, and 9 fruit trees. We also installed a new shade structure and a 3-bin compost system, and added over 60 cubic yards of fresh soil and wood chips.
The New Roots Community Farm offers critical services to refugees, asylees, and immigrant communities in addition to local South Bronx residents interested in tending their own plots. Located on the Grand Concourse in The Bronx, this farm is part of the IRC's national New Roots program that includes 15 farms across the country.
Many of the refugees and asylee clients of the IRC that use this farm come from agricultural backgrounds or places that are less urban as New York City. In this way, this farm is as a place for members to relax and connect with their culture through agriculture. "We do find our clients find the garden oftentimes like a therapeutic space for them to get away from the hecticness of the city," explains Maria Sigalas, the Economic Empowerment Manager at IRC.
The farm also hosts a women's job training program—for women who want to work in the agriculture and food industries in the future—in addition to various agriculture workshops, financial literacy courses, and their weekly Tuesday Farmer's Market. The market in particular is a great way to get healthy food out to the community, as well as an opportunity for their clients to work and show leadership in the agriculture sector. "The farm has become a way for both our refugee and asylum clients and community members that live in the neighborhood to connect and learn from each other. And so now it's integrated in that way," says Sigalas.
Our partnership with the IRC and New Roots Community Farm began in late 2019 when the group initially reached out just to repair their garden beds that were in despair. "We didn't know the extent to which NYRP could provide support. And then we met with Jason Sheets, NYRP's Director of Garden Horticulture and Citywide Greening Projects, and he offered to do a larger project, which we're so grateful for," explains Sigalas.
Throughout the planning process, NYRP and New Roots participated in several community meetings where gardeners were able to voice their ideas for the space to ensure that they were incorporated into the new design. New Roots members, for example, wanted to abandon their original individual garden bed structure and shift to larger shared garden beds to better complement their focus on combating food security and increasing food production for their community.
"We wanted to build the garden as a communal garden where people would steward it together and share responsibilities beyond just taking care of their own beds," explains Sheryll Durrant, Food and Agriculture Coordinator at New Roots Community Farm. These beds will also allow the group to create crop plans for the entire garden so that the space can have more crop diversity and increase food production. Additional design elements that the group wanted to include a new high-tunnel and greenhouse to extend their growing season into the winter months, and garden beds with seating alongside them, so people could sit while gardening.
When reflecting on the construction period, Durrant jokes: "It was a good experience because it was the first time where I was told to just sit back and relax. Coming together and rebuilding this farm and making it a place where anybody can come and enjoy is the highlight of this year," says Durrant.
View this post on Instagram
Thanks to this partnership and increase in food production space, the IRC and New Roots Community Farm can grow in new, exciting, and impactful ways. "We can increase our seed saving project and there are gardeners that want to grow specific, culturally appropriate crops from their homeland, and we want to see if they can be growing in this kind of climate," explains Durrant.
Durrant also notes that the sense of community in the garden is shifting through this partnership. "We are moving more and more in the direction of building a real community among stewardship and learning what it means to grow food together, take care of each other, and what it means to care for the community beyond our own."
The build captured community attention, increasing the waiting list for community gardeners from 30 to 70 people in just one week. "We had so many community members come by just asking about the farm like they didn't always realize it was there before." explains Sigalas.
When community input is at the heart and center of garden and park design, it allows urban green spaces to grow beyond just places to plant seeds and enjoy the outdoors. These spaces transform into sanctuaries where people can connect with their culture, grow and learn professionally, and improve the health of their communities.
Learn more about and apply for our Gardens for the City program here.