Gardens
| December 16, 2021
Honoring a Gardener's Legacy at Seagirt Boulevard Community Garden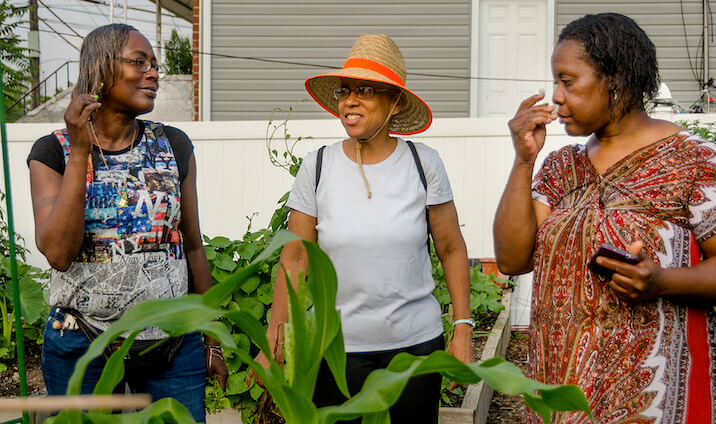 Sharon Keller has been a dedicated member and Garden Coordinator at our Seagirt Boulevard Community Garden in Far Rockaway, Queens since 2008. In that time, Sharon has led the garden through Hurricane Sandy recovery, used the space to grow food to change her own health, and even started the East Rockaway Growing Coalition to connect a local group of urban gardeners.
Sharon is retiring from her volunteer Garden Coordinator position this year after 13 years of service and we are beyond grateful for her tireless leadership, champion skills, and ability to help both the garden and her larger community thrive.  
We recently caught up with Sharon on the eve of her transition to look back on her tenure and learn what she's planning next. 
The following interview has been edited for clarity and brevity. 
How did you first learn about New York Restoration Project?   
At a previous job, I installed big color copies for Canon and one of my accounts was in NYRP's office building. I would pass that floor and it had lush greenery with all kinds of plants. I was bowled over by that, so it stuck in my mind. It's a funny coincidence that the garden I was passing near my home at the time belonged to NYRP. 
How did you start gardening at Seagirt?    
In 2004, I had a domestic violence incident and I was on disability. I was out of a job and at the time, my granddaughter was five years old. I would walk her to school and along the route we passed by Seagirt and every time I would say: "Oh, wow, this is so nice!"  
Eventually I looked into joining the garden as a member. I didn't get a response for a couple of years so I called NYRP's office, and they sent two ladies out to Far Rockaway with the necessary paperwork and signed me up. It seemed out of the ordinary; I said: "Wow! They would come all the way out here to do something like that for us?"  
Were you gardening before joining Seagirt, or did you start when you became an official member? 
I've always been a gardener like my grandmothers. My paternal grandmother was on Shinnecock Reservation out in Southampton and my maternal grandmother was down South in North Carolina. I would go and spend time with them, especially in the summer and they all had their home gardens. So, it was just a given, you know?  
What is the connection you have to the garden in terms of health and healing?   
The garden has been a godsend because I have lupus combined with a couple of other things. Anyway, after I found out about that, I realized I must change my diet and my answer was the garden. I decided I had to grow everything and try to eat much cleaner. So that's what I did. It really helped alleviate some of the symptoms of my disease. I'd also say the same for a lot of people in the garden: the healing powers of food are real.  
Has your family also gardened at Seagirt with you?   
All the time! At our first garden meeting, my daughter was there with me. I also would bring my grandchildren to the garden all the time, ever since they were little. I've dragged everybody to NYRP's annual Gardeners Gathering, too. My son would be like: "Oh, Ma!" I always made sure to immerse them in it so maybe somebody would think about getting further into gardening.   
You've been the Garden Coordinator at Seagirt since 2008. What's that been like? Do you have a favorite or most rewarding memory?   
It was right after Hurricane Sandy and people were coming to Far Rockaway to help us after the storm. I learned that a group of people from a church mission from Texas wanted to come out to the garden. They came up and we got to know each other. They were a great help and built new picnic tables, painted our shed, and more. They loved the garden so much they vowed to come back, and the following year, they returned and we had a big cookout with a new grill from NYRP! It was just monumental. From there, we started giving out different donations that we got from this church to the garden. It was just so cool.  
Tell us more about Hurricane Sandy and your involvement in the garden's recovery.  
After the storm passed, I went up to the garden just to see the aftermath. Oh, man. It was something that you would never think would happen—like a war zone. 
I called Jason Sheets (NYRP's Director of Garden Horticulture and Citywide Greening Projects), because he's my guy. He came and analyzed everything and of course knew we had to do something. This is when NYRP secured a grant and had our garden rebuilt in time for the next growing season.  
NYRP went the extra mile and made sure to test the soil to determine whether it would be viable to grow any food. We had been such avid gardeners and it came back that the soil was contaminated from the hurricane's flooding. NYRP helped us keep growing by building raised beds with clean soil.  
That's one thing about NYRP: everybody has a heart of gold. Everybody was so facilitating. Jason Sheets—as I said, that's my guy, my real friend to the end—he was a godsend. Anything that we needed, he was right there for us. And the same thing I can say to anybody else at NYRP.  Anything that we've asked for, the answer has always been "go ahead, yes."   
What kind of foods do you grow in the garden and how do you use the food?   
We're like a small United Nations of people who come from all walks of life—all ages, all nationalities, and from all different countries. We grow a huge variety of crops. For myself, I've grown everything from watermelon to sweet potatoes, to spinach, and lettuce.
The garden grows everything. We try to extend into the November season so that people can use the crops at their Thanksgiving meal. We've had success with every crop that you could imagine. Some of the gardeners even grow peanuts and other gardeners grow sorrel from their home country! There are also members growing all kinds of bitter melons, and different fruits, and stuff that may be considered exotic in New York City. We have it all.   
Do you have a favorite food or a staple meal that you like to make with the produce from the garden?    
My favorite has been the watermelons that we've grown because everyone was like, "No, I think that we're too far north that we probably can't grow it." Well, the first year that I tried, I tried Crimson Red, which is a large-sized melon. That thing came out so abundant, prolific, and sweet! Everybody in the garden remembers that and they always ask if I can grow watermelon again.   
View this post on Instagram
What are you going to miss most about being the Garden Coordinator or just about the garden in general?    
You know, NYRP holds their Garden Coordinators in such high regard, and we have these get-togethers at the end of the year called the Gardeners Gatherings. We have had the Gardeners Gathering in some nice places. We just would have some amazing get-togethers and NYRP spared no expense—I even got to meet Bette Midler one time! I'll really miss interfacing with everybody like that, just being able to talk with people from other gardens. It was just this cool thing, being able to be a part of that crowd. It was like I found my tribe.  
What I can say is everything started for me in the garden. There's so much potential there. Through the garden and seeing other gardens popping up, I felt the need to start a coalition. I was able to start the East Rockaway Growing Coalition which has gardeners from all over the Rockaways. 
The group includes NYRP representatives, people from GreenThumb, the Rockaway Youth Task Force, Edgemere Farms, and people involved in some NYCHA gardens. I never understood why we all should be separated. I organized for all these different members to come together to break bread and formulate future ideas since all of us are like-minded and do similar things. I made a lot of different relationships that have been so beneficial and I'm still getting the rewards today.  
Spaces like our Seagirt Garden are essential to supplement the food that isn't available in our community, which was a little bit of a food desert. So why don't we come together and try to make it even stronger, bigger, and better. That was the mindset.  
And lastly, I'm so thankful to NYRP for giving me this platform to make a change within our community. The little things do make a difference. 
Do you have any plans for after retiring as Garden Coordinator? Anything you're excited to use your extra free time for?   
Definitely! I'm going to practice more self-care and attend to all the different things that I love doing. For example, I make all of my own clothes which I love to spend time doing. And I'm still going to be a gardener but I'm just moving over to a different spot! I'll keep in touch with all the gardeners.  
Oh! One last thing to add is that once the world heals itself, I'd really like to travel more.