Gardens
| March 24, 2022
Honoring a Gardener's Legacy at Target Bronx Community Garden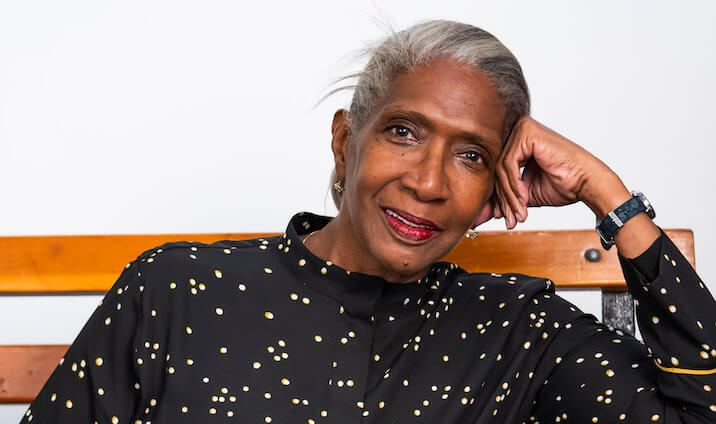 Hilda Jenkins has been a gardener at our Target Bronx Community Garden for thirteen years.
That's just a fraction of time she's been involved with New York Restoration Project, however. Over time, Hilda has been a dedicated community leader both in and out of Target Bronx.
Hilda keeps the garden active these days by helping to organize events including holistic health and wellness workshops. She also uses her gardening skills to grow fresh food to both cook with at home and share with her apartment building residents.
We recently caught up with Hilda to learn more about her ongoing volunteer work with NYRP.
The following interview has been edited for clarity and brevity. 
How did you first get involved with NYRP?
I started gardening 13 years ago but my time with NYRP has been longer than that. Before I became a community gardener, I volunteered in other ways. I used to work for the Harlem Children's Zone and the teens needed some type of volunteer activity, so I got them involved with NYRP by helping plant trees and other local greening activities.
Through those events, I got to know staff, learned more about the organization, and eventually started volunteering at different NYRP events. For example, I used to help with students at Swindler's Cove during the school breaks and I also worked one summer at NYRP's camp. When the camp existed, I helped teach children how to cook nutritious meals and eat healthy. I even taught them how to cook outdoors when we went camping!
What motivated you to join Target Bronx? What are your responsibilities there now? 
My daughter Mya helped introduce me to the garden. Prior to the pandemic, she worked in NYRP's former education department. When my husband had passed away, my daughter felt like I needed something to do—something that would help me—so I joined the garden.
I've always loved the outdoors and have kept tons of indoor plants in my house… 50 or 60 at a time! I first came to Target Bronx before NYRP transformed it into what it is now. It used to be more of a community or social gathering spot than a garden. After renovations, I met the garden coordinator at the time and asked her if I could join and I did.
In terms of roles and responsibilities, I don't really have just one. I'm involved in so many other things that I often bring information to the garden! I'm that kind of person.
Does your family enjoy coming to the garden with you? 
Yeah, my granddaughters do. They come to the garden with us and I teach them gardening. My daughter is a garden member as well, so yeah, we are all involved.
At NYRP before the pandemic, you could schedule dates to have personal events in the garden, and I hosted a family event and invited all family members from both my sides so that everybody could come meet everybody, you know? And we had a really good time. Once my extended family finally came, and they saw the garden, they were like: "Wow, you've been trying to get us to come here for so many years. Now we're finally here and this is so nice!" They even said, "When can I come back? Can I have an event here?" It was funny because it was true. I was always inviting them to come out to the garden to relax, and have a nice day and cool out. Now everyone is asking, "Oh, when is the garden going to open this year?"
What's your favorite part of Target Bronx? 
My favorite part of the garden is right in front of my bed where I have a bench and little sitting area. I just love to come in on Saturday mornings, to sit, relax, and drink my coffee. I just look at all the nature that surrounds me. Once in a while, we organize breakfast with other gardeners and use ingredients from our garden beds to cook together. It's nice just to gather.
I invited my friend to the garden one day to give her some vegetables and herbs that I had grown. When she visited, she said: "Wow! When you step in here it's like you're not in The Bronx anymore!" And I definitely could identify with that feeling, you know. That's also the kind of feeling you don't just get in our garden but in all the NYRP spaces, like when I go to Swindler's Cove… it's just beautiful.
How has COVID impacted how you used the garden?
I don't use it differently per se, but I was happy to be able to still work in there and take care of my beds during this time. I really find joy in taking care of my beds and most of the produce I grow includes foods that I can use in my house like herbs, garlic, tomatoes, those kinds of things.
Returning to the garden in the pandemic was an awe-inspiring experience. It was a nice day and I had time to sit down and look around. I saw a red cardinal in the garden. This was an awe moment to me because it shows that garden has some type of impact now on the community and the Earth. The animals from the area are coming back. We had bluebirds and robins this past summer. When you start seeing the natural habitat of your area thriving again, you know that what you're doing is working.
View this post on Instagram
What are your favorite foods to grow in space?
I love growing garlic. Last year I grew many different types of garlic that I would bring back to my house to use. I grew different types of tomatoes, too: cherries, heirlooms, tomatillos that I would use for salsa. I grew kale, cilantro, basil… just a lot of household stuff.  I also share my produce with the senior citizens in my apartment building.
What is your most rewarding memory in the garden?
Every year we used to have this Holistic Health and Wellness event, and it's always been really rewarding to see how many people in the community come and participate. We usually have at least 200 people attend! We have Tai Chi, yoga, and pilates instructors and people perform reiki massages. We also have cooks who demonstrate how to prepare vegan meals. It's always been a good turnout.
Overall, I love the organization. I've learned so much about the environment and that's how I ended up getting so involved in it, you know? And now I think I'll be gardening for a long time.
View this post on Instagram
Do you have a favorite or most memorable event?
Well, I enjoyed when NYRP Trustee Michael Kors used our garden for his fashion show. I was one of the gardeners that got to attend. It was nice to meet him! I even had the opportunity to tell him about our gardens, the beds, and the things we've grown. I learned about his garden as well and how his mom used to be a gardener.
I've been involved in so many events that it's hard to tell you just one. But I will tell you, one of my absolute favorite NYRP events was when I got to go to one of the annual Hulaween fundraisers at the Waldorf Astoria. I got invited by a staff member to see Stevie Wonder because they found out how big a fan I am and how much I love his music. I enjoyed myself tremendously! I just loved it… it was special.
NYRP also used to have these cooking competitions where gardeners would create a dish and the winner's dish would be featured at NYRP's former restaurant New Leaf in Fort Tryon Park. I participated in this contest and received second place for these spinach hors d'oeuvres I made. They were really, really good. I wasn't even worried about getting second place. The event itself was just nice, you know? I also go to all the end-of-season Gardener's Gatherings. I just believe you can't just be involved with something and not know about it. The only way you'd learn about something is being involved, so that's what Hilda is all about.
What do you like to do outside the garden? Do you have any hobbies or interests that people wouldn't know about?  
I love to cook and do different arts and crafts. And you know, I'm also a very spiritual person. Like I was explaining before, that awe feeling, that spiritual feeling that reminds you God made this world and that it is so beautiful. The garden reminds you about how we really need to take care of our environment. The other part is people need to learn about growing their food again and being in touch with mother earth instead of destroying it.
Just getting involved in something is important. You know, I'm 69 years old and I'll be 70 in May. I feel that being involved in gardening and learning about the environment, just doing things has helped me kind of stay not young necessarily, but healthy.