Transforming City Parkland Into Children's Gardens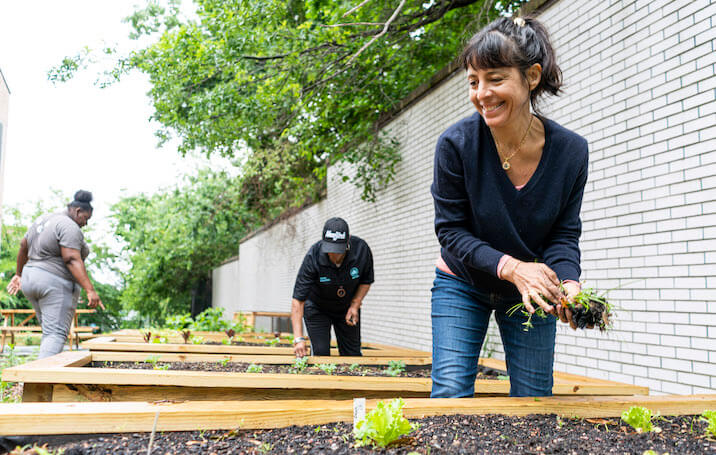 In 2014, Fabiola Caceres noticed that her computer tech students were having trouble focusing. She worked as the Media Education Director at the NYC Parks St. John's Recreation Center in Crown Heights, Brooklyn where her main role was teaching children technology skills.
Determined to engage her classes, Caceres decided to investigate further and eventually realized that many of her students were hungry, sometimes even going the entire day without a meal. Her first response was to buy her roughly 80 students healthy, nourishing snacks. This was successful, but she needed a lasting solution since she could not afford to provide the food on her own. "I thought, 'What tools can I use to make this a sustainable program with or without myself in the picture?'" Observing the patches of underutilized green space at the recreation center, her answer was a garden.
After a year of creating and readjusting the garden curriculum, Caceres wanted to take her vision to the next level: "In the second year, I realized I need a serious garden. If I'm going to ask for funding and if this is going to be an educational food garden, it needs to look beautiful," she said.
While searching for funding, Caceres remembered seeing New York Restoration Project signage on gardens throughout her community in Brooklyn and decided research further. To her surprise, NYRP's Gardens for the City initiative was exactly the opportunity she was seeking.
Caceres applied to the program in 2015 to build her first garden at St. John's. In early spring, her application was accepted and the NYRP team transformed the entrance of the center into a flourishing and productive community garden: "In a single afternoon, they built these beautiful raised beds with trellises, compost bins… it looked exactly how I envisioned and that allowed us to grow more food and to design a curriculum for the summer," describes Caceres. "It was an awe-inspiring experience… we all were like: how could they build this garden in one day?" And this garden was just the beginning.
View this post on Instagram
Using the garden, Caceres formalized the inspiring cityscape-to-table education program, Garden Kitchen Lab, in partnership with the NYC Department of Parks & Recreation. Today it is an afterschool program working with underserved communities to teach children the importance and joy of locally grown food. For a few hours each afternoon, students learn how to start and sustain food-producing gardens and incorporate healthy eating into their diet.
In addition to the garden at St. John's, NYRP's Gardens for the City program has built two additional Garden Kitchen Labs on Parks Department property in The Bronx: the second in 2019 at the St. James Recreation Center, and the third in spring 2021 at the Hunts Point Recreation Center.
The Hunts Point garden is the largest Garden Kitchen Lab to date. In only two days, NYRP cleared debris and built 14 new raised beds. The NYRP team also constructed a new shady sitting area, picnic tables, and a composting system. What was once an abandoned and overgrown lot behind the center is now a thriving garden space that will provide the community with increased access to fresh produce and a vibrant oasis for programming and events. A Harvest Festival, art classes, and green job development are already in the works.
Thanks to NYRP's Gardens for the City initiative, Garden Kitchen Lab has provided over 700 city kids with skills to start and sustain food-producing gardens, while simultaneously exploring the links between food production, the environment, and their health.
NYRP was the catalyst Caceres needed to fully realize her program, which now boasts six different sites throughout the city. The impact of these kitchen garden labs has gone beyond just lessons of healthy eating; students participate in environmental stewardship, and Caceres supports them taking this journey independently: "If I'm going to ask these children to protect nature and realize this is a very important mission, they have to love it. They can't protect something they don't love; they have to believe it from their heart first."