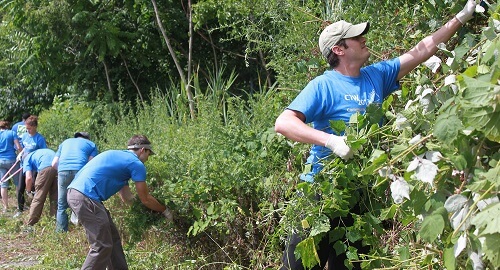 Date & Time
May 25, 20226:00 PM - 7:00 PM EDTAdd to Calendar
Location
Highbridge Recreation Center, 2301 Amsterdam Avenue, New York, NY Get Directions
Back to All Events
Past Event
Highbridge Park: Plant Identification Workshop
This event is organized by Natural Areas Conservancy (NAC).
From the event organizers: 
Join NAC this Wednesday, May 25, at 6:00 p.m. for a plant identification and management workshop in Highbridge Park in Inwood, Manhattan.
During this workshop, attendees will learn about forest ecology, how to identify plants, and other indicators of forest health!
Neighbors of Highbridge Park in Washington Heights and Inwood are encouraged to attend but everyone is welcome!
Note: Please wear sturdy, closed-toe shoes and dress for the weather. Bring water and a snack if you wish! Walking will be on paved and un-paved forest trail. We recommend bringing a portable charger device.
Registration is required. Please RSVP here.