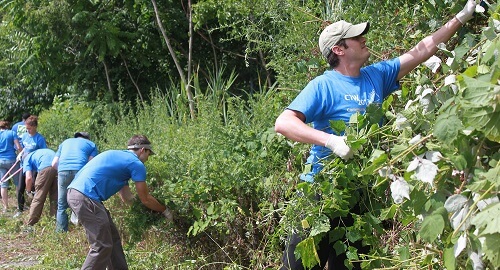 Date & Time
April 30, 202210:00 AM - 12:00 PM EDTAdd to Calendar
Location
Highbridge Recreation Center, 2301 Amsterdam Avenue, New York, NY Get Directions
Back to All Events
Past Event
Highbridge Park: City Nature Challenge
This event will be co-hosted with Natural Areas Conservancy.
Join NYRP and Natural Areas Conservancy (NAC) this Saturday April 30 from 10:00 a.m. – 12:00 p.m. to participate in the City Nature Challenge in Highbridge Park in Inwood, Manhattan. We will be taking a walk through Highbridge and documenting all types of spotted wildlife in the iNaturalist smartphone app.
City Nature Challenge (CNC) is an international event, motivating people around the world to find and document wildlife in their cities. The CNC is an annual bio-blitz style event where over 300 cities across the globe collaborate to make the most observations of nature, find the most species, and encourage the most people to get out into their natural areas.
This collaboration-meets-friendly-competition shows not only what can be accomplished when we all work toward a common goal, but also which city can gather the most observations of nature, find the most species, and engage the most people in the event.
Let's get NYC to the top of the list!
Neighbors of Highbridge Park in Washington Heights and Inwood are encouraged to attend but everyone is welcome!
Note: Please wear sturdy, closed-toe shoes and dress for the weather. Bring water and a snack if you wish! Walking will be on paved and un-paved forest trail. We recommend bringing a portable charger device.
RSVP here.