Parks
| August 23, 2023
Why We Spend 230 Days a Year Removing Invasive Species By Hand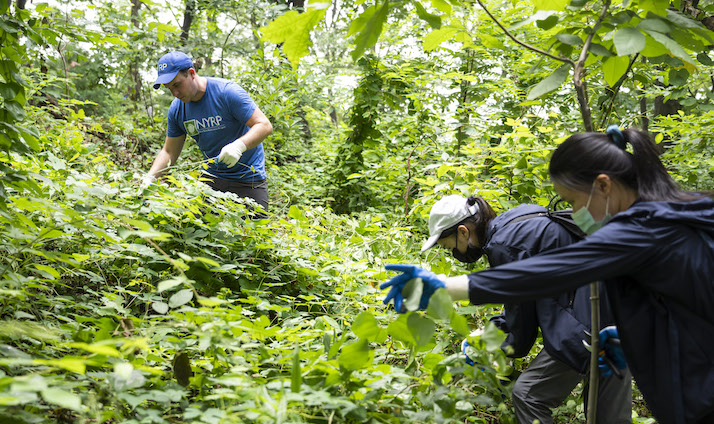 Our urban tree canopy is essential for keeping New York City resilient in the face of climate change. The city's 7 million trees filter air pollutants, absorb ambient heat, soak up stormwater, and are crucial to the physical and mental wellbeing of all New Yorkers. When it comes to the ecological health of these indispensable natural resources, though, one invasive plant can change everything.
"There's a very small number of nonnative species that can really disrupt an ecosystem," explains Jason Smith, New York Restoration Project's Director of Northern Manhattan Parks. Smith oversees NYRP's urban forestry operations in Sherman Creek Park and Highbridge Park in partnership with the NYC Department of Parks and Recreation.
"In New York City, there are invasive vines that will kill native trees, and if we can't have trees, we can't have a forest," he explains. For this reason, our NYRP staff collectively spends more than 5,500 hours every year—or roughly 230 days—manually removing invasive species without chemical intervention.
"Highbridge used to be an oak, hickory and chestnut dominated forest, but the invasives came in over time and completely dominated the space," explains Chris McArdle, our Northern Manhattan Parks Landscape Manager. "Ecologically, our big mission here is to create an environment that allows our natives to thive and bring this forest back closer to its historic landscape."
Since the mid-1990s, NYRP has vigorously monitored and removed invasive species like Japanese knotweed, Norway maple, and porcelain berry in the more than 80 acres of parkland we manage in Inwood and Washington Heights. These and other invasives can suffocate entire forests when left unchecked, and it's critical to get these plants out of the ground before they take root for another season.
Applying herbicides tends to be the dominant means for eliminating invasive species. In the short term, this chemical control is usually more effective and cost-efficient than addressing each individual plant by hand. At the same time, the environmental and public health impacts of herbicides are substantial.
Studies have found that herbicides contaminate soil and water and can be toxic to a host of other organisms including birds, fish, beneficial insects, and non-target plants. Glyphosate, one of the most commonly used chemical herbicides, is known to cause many health problems in humans, including cancer, nervous system issues, liver and kidney damage, and reproductive health issues. Reasons like these are why NYRP combats invasive species by hand, even though it is ultimately more laborious and time-consuming.
"There's a misguided idea that people should just look at a forest, and not work in a forest," says Smith. "Our forests have been managed by people for as long as people have been here. We need people to steward our forests if we want to preserve our natural heritage."
Our parks crew follows an invasive species management plan that details specific life cycles of each invasive species in our parks and focuses on removing the plants before they go to seed. During the peak growth period of May through mid-summer, our staff spends their days cutting back invasive plants with sheers, weedwhackers, and chainsaws depending on the size of the plant.
In the colder months when there is less ground vegetation, NYRP dons tree-felling gear to cut down the larger invasive trees. We also use the winter period to cut back invasive plants in harder-to-reach areas, pull persistent invasive vines from native trees, and plan for the next season of native-tree planting.
One of the most exciting milestones in our restoration of Highbridge Park has been the reintroduction of the functionally extinct American chestnut. Once one of the most abundant and productive trees in North America, the American chestnut fell victim to an invasive fungal disease in the early twentieth century the has since wiped-out billions of mature trees across the continent.
Since 2017, we have partnered with the American Chestnut Foundation to plant over 300 hybrid American chestnut trees in the park to help restore the native tree to its historic range. This hybrid variety combines the blight resistance of the Chinese chestnut (a genetic cousin) with the original American species through traditional breeding practices.
Six years later, the trees are thriving and the endeavor the largest urban experiment of its kind in the country. "What we see when we do this work is that we can reintroduce a complicated, healthy food web that supports a lot of wildlife in a dense, busy urban neighborhood," describes Smith.
Volunteers provide crucial assistance for our NYRP staff throughout the year. Thanks to our Sherman Creek Stewards, Highbridge Forest Crew, Corporate Volunteer programs, and other community stewardship opportunities, we host hundreds of volunteers each year to assist with litter removal, invasive management, beautification, and native tree plantings. In the past year, using a competitive grant we were awarded from the National Fish and Wildlife Foundation's Five Star and Urban Waters Restoration Grant Program, with support from the U.S. Forest Service and the Bezos Earth Fund, we've expanded these community volunteer partnerships to include groups as diverse as local public school students, workforce development program trainees, and even mountain bikers who regularly use Highbridge Park's many miles of bike trails.
These stewardship opportunities connect New Yorkers to their local landscapes and help educate the public on how to protect their surrounding environment by spotting and removing pernicious plants. "It's about having an extra set of hands," McArdle says, "but more than anything, it's about the community engagement: teaching people what we're doing out here and why a healthy forest is so important."
With this ongoing assistance for our non-chemical invasive management strategy, NYRP has seen a massive improvement in forest health over time. Looking ahead, we anticipate that there will continue to be challenges with new and persistent invasives bolstered by climate change, but we are also confident in the landscape's resilience.
"When we began stewarding Highbridge Park over 25 years ago, the area was declining due to lack of management of invasive species," reflects Smith. "Over time, our invasives management has turned this land around, and now it is an incredibly diverse, healthy forest on a much more positive trajectory."
NYRP thanks The National Fish and Wildlife Foundation's Five Star and Urban Waters Restoration Grant Program, the U.S. Forest Service and the Bezos Earth Fund, for their support of our invasive species management and community engagement work in Highbridge Park. We are also grateful to the Greenacre Foundation, The Hearst Foundation, The Sarah K. de Coizart Perpetual Charitable Trust, Bank of America, Bloomberg Philanthropies, BNP Paribas, Ernst & Young, GIC, Goldman Sachs, HPS Partners, TIAA, and UBS for their support of our reforestation and stewardship efforts in Northern Manhattan.