Parks
| March 29, 2022
Sign the Petition: 1% of the City Budget for Parks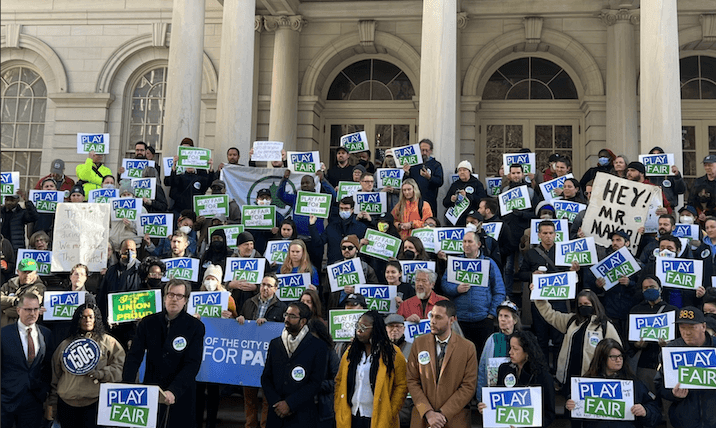 Sign the petition and take action
The COVID-19 pandemic has shed light on many of the City's deep inequities, especially when it comes to access to open space. At New York Restoration Project, we work extensively in communities in Central Brooklyn, the South Bronx, and Northern Manhattan, where nearly half of all residents live below the poverty line.
Unfortunately, these same communities were some of the hardest-hit by the pandemic and have the least access to parks and green space. In stark contrast, wealthier neighborhoods used outdoor space in record numbers with easy access during the pandemic. Further, a recent report from New Yorkers for Parks revealed that 12 of the 20 districts with the least amount of parkland are districts where a majority of people of color live.  
To achieve our vision of a fairer, more equitable city, we need to invest significant resources in our City's green spaces. We were very pleased that Mayor Adams acknowledged the issue of parks equity during his campaign and publicly committed to increasing the budget for the Department of Parks and Recreation to 1% of the total city operating budget. Many major cities in the United States spend upwards to 3 or 4% of their total operating budget on Parks, while currently New York only spends 0.5%.
Advocates host rally in support of '1% for parks' in New York Cityhttps://t.co/FCr3o3JzPI

— New York Restoration Project (@NYRP) March 23, 2022
While we were disappointed to see that only $495 million was allocated for the Parks Department in the preliminary budget, we are looking forward to working with the Mayor and the City Council as the budget process ramps up to help make 1% for NYC Parks a reality. The morning of the first Parks Budget Hearing on March 22, 2022, we attended a rally at the steps of City Hall to support 1% for Parks. It was the most well attended rally at City Hall since the onset of the COVID-19 pandemic.  
Parks and gardens play an invaluable role in the City's continued recovery and we must ensure that our City's green spaces are supported. Now more than ever, it's imperative that we fulfill our promise to increase Parks funding to 1% of the City's operating budget.
During the Parks Hearing, we urged the City to reform the procurement process so we can build green space faster and cheaper. NYRP operates under the conviction that access to nature is a fundamental human right. Together we can work to make our city more equitable and combat environmental injustice in our communities, beginning by investing in our City's parks and gardens. Green spaces are the lungs of our city, we must all urge this administration to prioritize 1% for Parks in this year's budget.