Gardens
| September 22, 2022
A Decade After Sandy, a Far Rockaway Community Garden Rebuilds Again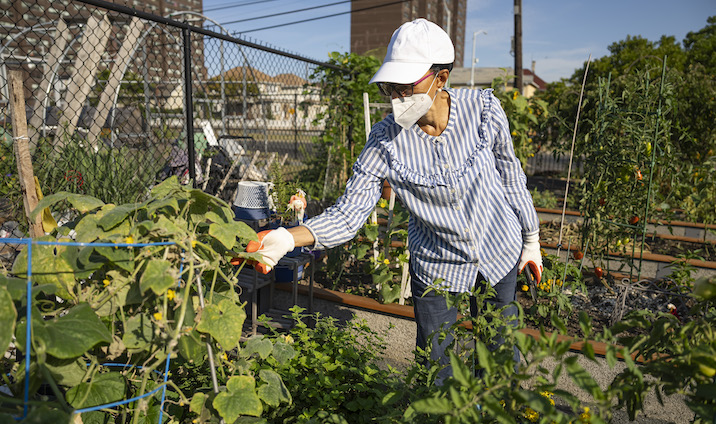 On October 29, 2012, Hurricane Sandy landed in New York City. The unprecedented superstorm flooded nearly 90,000 buildings, cut off power for 2 million city residents, and left 43 people dead. One of hardest hit areas was Far Rockaway, Queens, which is home to New York Restoration Project's Seagirt Boulevard Community Garden.
The storm's surge completely submerged the garden with several feet of water that destroyed almost every structure within the space. "I was completely stunned. Every word you might imagine, I felt," explains Sharon Keller, a long-time Seagirt member and recently retired volunteer garden coordinator. "The Rockaways felt like a war zone even after other parts of the city were up and operating as usual."
In disbelief, Sharon immediately called Jason Sheets, NYRP's Director of Horticulture and Citywide Greening Projects. "I was there the next day and it was crazy," he remembers. "The wire fence acted as a colander: almost everything in the garden had been uprooted and pushed against it."
In the weeks that followed, our NYRP crews wasted no time while planning and executing a total garden rebuild. A group of older gardeners from the South mostly used the space at the time, and our crews were determined to help them recover as soon as possible. "We grew everything from peanuts to watermelons, even some kinds of exotic fruits," describes Sharon.
NYRP installed 21 new planting beds, reconstructed a garden path, repaired fencing, and replaced patio furniture all in time for the 2013 growing season. "It felt like finally someone else was feeling our pain out here in the Rockaways," says Sharon. "I just put my faith in NYRP, and with Jason's leadership, they came through."
Garden membership increased after the renovation, which the group considered an unintentional silver lining amidst the crisis. "Residents saw and complimented the new beds," says Sharon. "They didn't really notice the garden was here before." Since then, the large and collaborative group has grown thousands of pounds of fresh produce each season that they frequently share with their neighbors or through various community events.
No garden renovation lasts forever, though. This past spring, NYRP returned to Seagirt for another upgrade almost a decade since Sandy thanks to the generous support of an anonymous donor. "We utilized our old garden beds to the maximum, but after nearly a decade of heavy use, the untreated wood began to wear and tear," describes Sharon.
View this post on Instagram

Designing with the garden's future in mind, our crew built and installed twenty-one Durable GreenBeds filled with 40 yards of fresh soil. This bed style offers a couple of significant upgrades; first, the beds are larger and allow the gardeners to grow more food. Second, they are made from recycled wood chips and concrete composite, which is expected to last up to 25 years and better withstand the garden's beachside weather.
NYRP also planted pollinator-attracting perennials and intentionally selected plants that can withstand more intense climate conditions including beach plums, bay myrtles, cardinal flowers, swamp milkweed, native ornamental grasses, and yarrow. "I choose plants that can both survive the extreme heat and droughts like we've seen this summer, but also intense flooding that's more frequent these days," says Jason.
We finished the 2022 upgrades in time for the gardeners to take full advantage of this year's growing season. The group continues to harness the space's full potential, operating it like an urban farm while growing everything from tomatoes and eggplant to corn, beans, cucumbers, and squash. They also continue to keep their larger community in mind by hosting community beds, donating fresh produce, hosting events, and maintaining a brand new Little Free Library.
"NYRP support has always been and continues to be community-oriented," reflects Sharon. "The ability to grow and share our own organic food at Seagirt Boulevard Community Garden is truly a godsend."
All photos by Ben Hider unless otherwise noted.