Rebuilding a Free Food Hub in Red Hook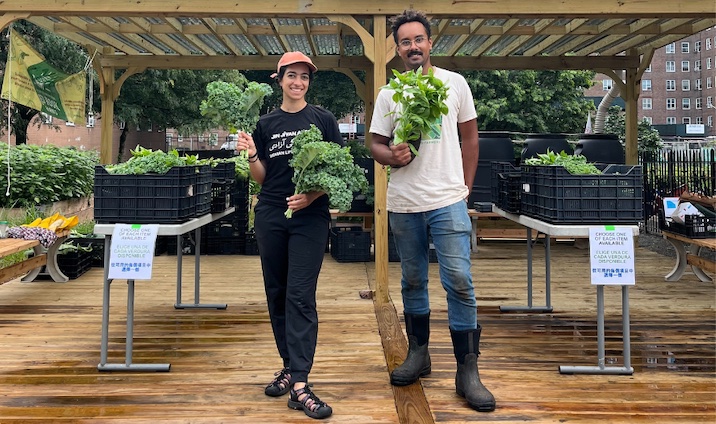 At the height of the growing season from June to November, New York City Housing Authority (NYCHA) residents in Red Hook, Brooklyn can pick up fresh, local produce for free.
Red Hook Farms, a youth-centered urban agriculture and food justice program, distributes fruits and vegetables at the entrance of their Wolcott Street Farm at Red Hook Houses West. This street-facing free food hub was proudly rebuilt earlier this spring through New York Restoration Project's Gardens for the City (GFTC) program, which constructs and renovates gardens for community partners citywide at no cost.
View this post on Instagram
This weekly distribution, which happens every Friday from 10:00 AM-12:00 PM, is an essential resource for local residents who face high rates of food insecurity and have limited access to fresh and healthy food.
Over 15% of Brooklynites are food insecure, meaning nearly 400,000 people throughout the borough cannot consistently feed themselves and their families. Many of these individuals live in public housing located in areas that lack access to affordable fruits, vegetables, whole grains, low-fat milk, and other foods that make up the full range of a healthy diet. Circumstances like these often lead to higher instances of diet-related chronic health conditions, and in the Red Hook Houses specifically, 18% of residents suffer from diabetes, compared to 11% in New York City overall.
Red Hook Farms is the urban agriculture and food justice arm of the Red Hook Initiative (RHI), a community-based nonprofit that was formed in part as a response to the severity of health and social issues in the neighborhood. RHI built the 1.1-acre Wolcott Street Farm in 2013 as an addition to Red Hook Farms' nearby 2.75-acre Columbia Street Farm, making the location one of the first urban farms built on public housing land.
After almost a decade of food production, Red Hook Farms decided to rebuild the 1.1 acre Wolcott Street Farm from the ground up in 2021. They began leveling the farm and erecting raised beds throughout the space but knew that they could not complete the work entirely on their own. The following year they applied to NYRP'S Gardens for the City program with hopes of improving their public-facing infrastructure and creating a stage for their essential free food giveaway program.
"Some of the pieces of our redesign felt a little bit daunting," remembers Saara Nafici, Red Hook Farm's Director. "In my mind, to get to the finish line was going to be pulling ten different favors and friends from around the neighborhood, whereas NYRP would just bring it all in one in one amazing team."
Jason Sheets, NYRP's Director of Garden Horticulture & Citywide Greening Projects, and Corey Blant, NYRP's Deputy Director of Urban Agriculture (who is a Red Hook Farms alum and frequent collaborator), consulted with Nafici on how to meet the farm's needs for food education and distribution. "It was really nice to talk with them in a very open-ended way," reflected Nafici. "They really heard us and worked with us as partners to give shape to the project, which I thought was really special, and made it ultimately so effective and successful."
This collaborative brainstorming process culminated in a plan to build a shaded deck with a rainwater catchment system as well as raised garden beds along the sidewalk where passersby can pick herbs and flowers. NYRP also pruned the plants at the street-facing entrance to create a more open and welcoming environment in addition to installing an accessible pathway; building a dual entry gate to the farm's operations yard; and grading a large area of the farm for future raised bed builds.
NYRP's team used their welding, construction, and gardening expertise to complete the project over two weeks. This work was generously supported by GIC, whose volunteers helped NYRP's team fill and plant the garden beds, apply a new coat of paint to the fence around the operation yard, and construct benches for the new shade structure. Sheets reflected on the build saying, "this was a great project to support the efforts of a grassroots non-profit doing amazing work in our city."
NYRP's work had a near-immediate impact on the farm's food distribution operation. "We made use of the stage area almost immediately," Nafici said. "Our first distribution was pouring rain, and it was totally fine, because we just stepped underneath the roof."
Thanks to the recent NYRP upgrades, Red Hook Farms is now able to reach even more neighbors for their free food giveaway program. "[The shade structure] faces out into the street. It's a very clear welcome, and a very clear place where people should go," reflects Nafici. "People love the herbs and the flowers. It's just a very beautiful, very clear, effective way to signify: here is the farm, you should come in. Everyday, people walking by comment and are happy with what they see."
Learn more about our Gardens for the City program and apply today.