Reviving a Decades-Old NYCHA Community Garden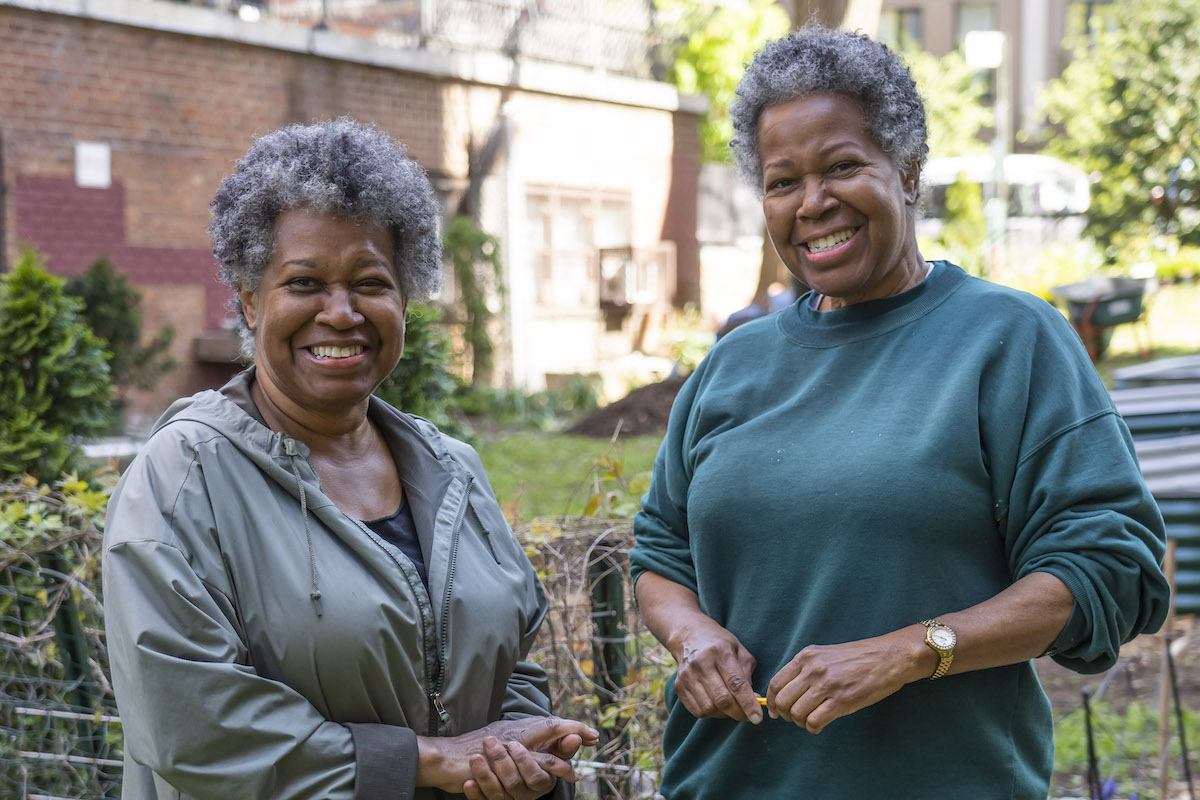 Twin sisters Arlene and Annette Wilcox were some of the Manhattanville Houses' first residents when the New York City Housing Authority (NYCHA) completed construction in the early 1960s. Not long after, their mother Bernella Wilcox made a mark on the West Harlem property by planting a garden as part of a Girl Scout project. "She made it in the shape of a trefoil, which is the Girl Scout symbol," remembers Arlene. "She planted that entire garden from seed and it was beautiful. We used to go to the top floor in that building just to look down at it."
The family lived in the Manhattanville Houses for seven years before moving nearby. Even after the move, though, the garden Bernella started at Manhattanville remained a lasting inspiration for her daughters, who ultimately took up gardening as a full-time passion several years ago after entering retirement.
Exercising their own green thumbs throughout the neighborhood eventually led Arlene and Annette to Graham Windham, a community center operating within the Manhattanville Houses. The center works closely with many property residents, and once the Wilcox sisters began volunteering, an exciting opportunity to revive the garden their mother started decades earlier arose.
In 2017, Arlene and Annette dug in with some donated plants and a vision. They wanted to create an oasis for residents to connect with nature year-round. "We like to call the space the Manhattanville Botanical Gardens because we're always trying to develop something new and different to keep making the space better," says Annette.
The garden gained new meaning in 2020 when COVID hit. More and more residents regularly visited the space for different reasons: some wanted to grow their own food, others needed space for their kids, and everyone needed a safe and convenient area to simply get outside.
The sisters soon realized that it was time to take the space to the next level and remembered an early 2000s episode of the BBC garden makeover program "Ground Force." It was a New York special that featured New York Restoration Project, a local nonprofit that Arlene and Annette recalled as having garden resources and design expertise. Sure enough, when they looked up our current Gardens for the City (GFTC) program, it seemed like NYRP could meet their needs and they applied.
NYRP staff immediately saw the potential of this large space on 133rd Street between Broadway and Amsterdam. "I think of this project as a bit of homecoming for the sisters," explains Jason Sheets, NYRP's Director of Horticulture & Citywide Greening Projects who leads GFTC. "I knew that renovating this garden would allow them to give back to their community and foster a sense of gardening love and know-how, especially for kids."
NYRP consulted with the Wilcox sisters, NYCHA, and Graham Windham to synthesize the community's vision. With final plans and generous support from The Walt Disney Company, our GFTC team began the renovation this past May. Over the course of a week, our crews and Disney VoluntEARs removed a restrictive chain link fence; assembled 10 new raised metal garden beds filled with fresh soil in a flower petal formation (the Wilcox sisters' original design); constructed an accessible shade structure and gathering area; installed new picnic tables and benches; and planted over 50 pollinator-friendly perennials and shrubs. NYRP's Urban Agriculture team also began their ongoing support of the garden's food production goals with materials and expert guidance.
The Wilcox sisters describe NYRP's work as the "shot of adrenaline" this garden needed. "In just a few days, NYRP moved this space forward six, seven, maybe even eight years, and for that, we are just so grateful," says Annette. The Wilcox sisters even remember one person live-streaming their family back in the Dominican Republic to show them the new garden, chanting, "This is New York! This is New York!"
Many first-time gardeners have been eager to get involved since the renovation and the Wilcox sisters have already started building a list of volunteers. Additionally, children in programs at Graham Windham use the new picnic tables to do art projects and have been playing in the newly accessible lawn. Other residents are just grateful to have a place to sit to enjoy the revived green space. "The work NYRP did is just beautiful. The garden is evolving into what we wanted—a community space that is outside," explains Arlene. "It's so important for people to have access to this garden. You just feel better when you're around natural spaces, no matter where it is."
Looking ahead, the Wilcox sisters hope to find a core group of young people to mentor so that they might pass on their enthusiasm and knowledge like their mother did for them. "Through projects like this, we can bring that awe of nature feeling to the city," believes Arlene. "When people, especially children, have these beautiful nature scenes, they stick with you and totally transform how you look at life."
Learn more about our Gardens for the City program and apply today.