A Farmer's Journey That Took Root in a Gowanus Community Garden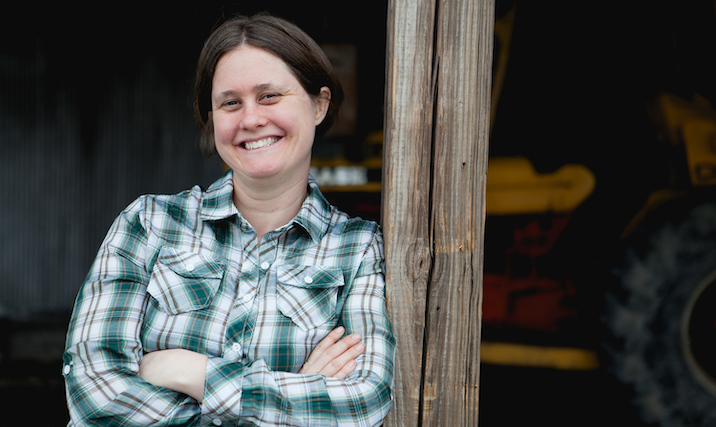 Brooklyn's Gowanus neighborhood doesn't have a reputation for lush green space. According to a 2021 study by New Yorkers for Parks, only six percent of the total community district area is parkland and only about half of the residents live within a five-minute walk to a park. The history of the Gowanus Canal also looms large: it's one of New York City's four Superfund sites, or an area so severely polluted that the EPA deems it necessary for clean-up to protect environmental and public health.   
New York Restoration Project's Gil Hodges Community Garden sits three blocks east of the canal. Since its founding in 1982, the garden has been a meaningful green space in the heavily developed neighborhood. It occupies roughly 3,000 square feet on the corner of Carroll Street and Denton Place, where the greenery is striking in contrast with its industrial surroundings. There are aromatic plants, including a sweetbay magnolia, ruby spice summersweet, orange azalea, and mountain mint. A birch reading grove and patio provide quiet corners, and the garden also has an outdoor classroom area with a blackboard, composting station, and raised vegetable beds. 
While many gardeners and nearby residents have been active in the space over the past four decades, at least one has gone on to grow food full-time on their own farm. "I think of Gil Hodges as a little oasis of peace in the neighborhood," remembers former-gardener-now-farmer Jane Hayes-Hodge, who is one of four co-owners of the cooperative Rise & Root Farm in New York's Orange County.  
Jane got involved at Gil Hodges in the late 2000s after a nearby school expansion closed Park Slope's Baltic Street Community Garden and she needed a new place to get her hands dirty. She moved to New York from New Jersey to specifically work in urban agriculture. Actively participating in gardens was her opportunity to practice her food-growing skills and the community aspect of a space was also valuable. "It felt just as important to me to have a garden in my neighborhood for meeting other likeminded people as it did for growing food," Jane remembers. "The garden helped me feel more connected." 
Jane remembers the Gil Hodges group being very collaborative in maintaining all aspects of the space at the time and she was especially fond of compost duty. "There's just something about compost that lends itself to collaboration," Jane describes. "I got my most practice with composting at Gil Hodges before I started seriously planning the rest of my farm journey." 
Jane spent nine years working in urban agriculture across the city before farming rurally. Up until May 2014, she was the founding Farm School NYC Program Director and worked extensively with Just Food. Before starting Rise & Root, she also farmed at Obercreek Farm in Wappingers Falls,  Snug Harbor Heritage Farm in Staten Island, and Roxbury Farm in Kinderhook. She completed a six-month apprenticeship with the Center for Agroecology and Sustainable Food Systems (CASFS) in Santa Cruz, CA, and received a Certificate in Ecological Horticulture. 
Today she operates Rise & Root cooperatively with three other women owners who are intergenerational, multi-racial, LGBTQ+, and have a background in urban agriculture. They grow vegetables, flowers, and herbs using sustainable growing techniques while aiming to support a healthy ecosystem in and around their land. Building community is an important part of their mission and they hope to create a safe environment for others who may want to follow their example. 
Some of Jane's most rewarding work on the farm has been growing seedlings for New York City community gardens, which she's been able to do partly in partnership with New York Restoration Project. NYRP's Deputy Director of Urban Agriculture Corey Blant made the connection with Rise & Root in recent years and has been proud to offer their plant starts for growers in our network. It's a full circle moment for Jane, thinking back to her formative time at Gil Hodges and throughout the city's farms and gardens. 
"Growing these seedlings and getting them in the hands of New York City gardeners is the most rewarding thing that I do personally," Jane affirms. "It's so meaningful because those are our roots; that's where we came from. To be growing our own food and supporting New Yorkers doing the same, it makes me feel as if I'm doing the right work."  
View this post on Instagram
NYRP procures and distributes thousands of seedlings from multiple farms for gardeners who are active members of our 52 community gardens. Rise & Root also sells seedlings directly through their website. You can learn more about their farm here and more about NYRP's Urban Agriculture work on our blog.