Hulaween
| November 17, 2021
Hulaween Returns—Live, In-Person, and Fully Vaccinated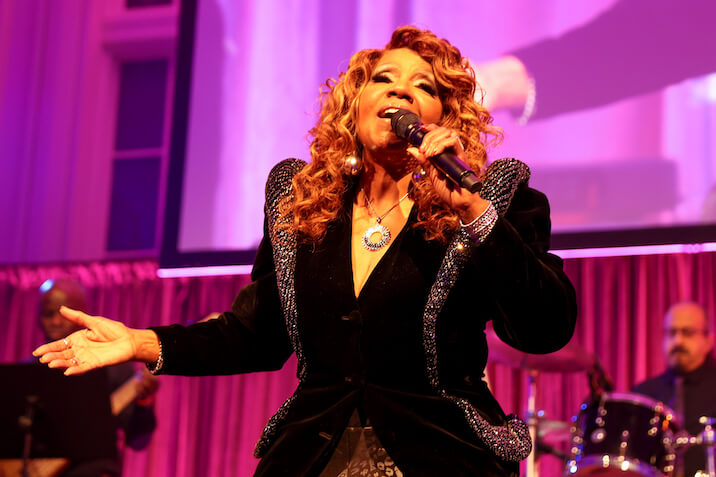 On October 29, 2021, we hosted the Boogie Frights edition of our annual Hulaween gala at Cipriani South Street. We danced the night away in proper 70's fashion to raise over $1.7 million dollars to directly support our essential cleaning and greening work throughout the city.
After hosting Hulaween virtually last year, we were excited to be back in person thanks to our mandatory vaccine and same-day negative test protocol. In the words of our Executive Director Lynn Kelly: "NYC is back!"
Our host for the night, Mario Cantone was the life of the party, and two-time GRAMMY Award winner and Queen of disco, Gloria Gaynor brought the room to their feet with her platinum-selling disco anthem "I Will Survive" among her other major hits.
We were thrilled to honor Miriam Wheeler of Goldman Sachs and longtime NYRP supporter Lance Le Pere, who received the Green Goddess Award and Wind Beneath My Wings Award, respectively.
Thank you to our Board Member, Michael Kors, for returning to his role as costume judge and setting the contest bar high with his own costume, paying homage to fellow fashion icon Halston. Among the winners were Oliver Dillon and Roger Padhila as sequined, Keith Haring pieces, and Maria Pacheco, as Bianca Jagger on her white horse.
Since it is no secret that Hulaween is notorious for our guest's elaborate and fabulous costumes, we decided to share the fashion beyond the Cipriani walls and to our Instagram with our first-ever People's Choice Costume Contest. The winner, guest Robert Vuichard, stole the show in Bob Mackie's iconic Dodgers uniform for Elton John.
View this post on Instagram
Brooklyn-based drag performer and former Rupaul's Drag Race contestant Thorgy Thor served as this year's fabulous inaugural Red Carpet Correspondent, providing fans from at home an exclusive virtual look behind the scenes all evening long. To end the night, our guests boogied the night away at the after-party to the 70s mix of music by Boyyyish. Check out NYRP's Instagram to relive all the fun of the night and we hope to see you there next year!
Want a closer look at Hulaween? Browse this year's press:
Please contact [email protected] with any Hulaween questions. 
Photo credit: BFA