Annual Report 2022: Revitalizing Open Space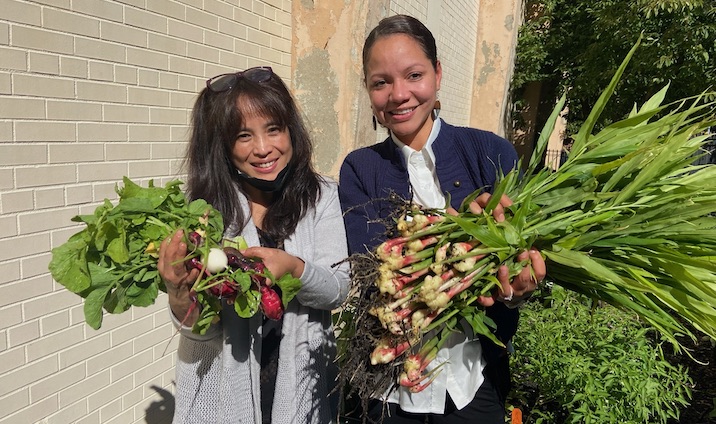 The following blog post is an excerpt from our 2022 annual report.
With more New Yorkers than ever seeking access to open space, demand for NYRP's work has never been greater. "The interest in our programs has grown each year since the pandemic started," says Director of Garden Horticulture & Citywide Greening Projects Jason Sheets. "Word has spread that we do good work at no expense to our community partners."
Jason has led Gardens for the City (GFTC) since it began over a decade ago. The NYRP program renovates gardens and outdoor space for partners throughout New York City with the goal of helping communities envision, design, and create vibrant green spaces.
GFTC has completed over 350 greening projects citywide for groups ranging from schools and assisted living facilities to harm reduction centers and houses of worship. Each project is specifically tailored to meet the partner's needs and has the option to receive individualized urban agriculture consultation led by our Deputy Director of Urban Agriculture Corey Blant throughout the year following renovation.
There's no question that 2022 was one of GFTC's busiest. The program completed 20 garden renovations at a range of property types including the backyard of a Bronx co-working space, a community center rooftop, and the last phase of a multi-year urban farm build at a school for students with disabilities.
Jason resists picking favorites, but one standout project was reestablishing a garden at NYCHA's Manhattanville Houses in West Harlem. Annette and Arlene Wilcox, daughters of Bernella Wilcox who founded the garden in the 1960s, applied to GFTC to revive the campus's open space when it took on new significance during the pandemic. The sisters describe NYRP's work as the "shot of adrenaline" this garden needed. "The garden is evolving into what we wanted—a community space that is outside," says Arlene.
The season's largest project was the expansion and revival of Union Settlement's half-acre outdoor space in East Harlem. Union Settlement has been the largest service-providing non-profit in the neighborhood since its founding 125 years ago, and its sprawling garden at their East 104th Street location is integral to this mission.
View this post on Instagram
Over two days in mid-September, with the support of Viking Global Foundation, NYRP and more than 125 volunteers completed an ambitious redesign that included repurposing, building, and installing 44 raised garden beds; constructing a new 30-by-30-foot high tunnel green house to support year-round food production; planting over 200 shrubs and perennials; and adding new picnic tables, benches, and a Little Free Library. Our Urban Agriculture team will consult with Union Settlement staff and community members throughout this coming season to help them make the most of this new and dynamic resource.
Looking ahead, Jason is always eager to work with a variety of different property types, populations, and neighborhoods. Each season is a new opportunity to help bring the benefits of nature to communities who need it most.
"We call these spaces community gardens, but to me, they're more like community assets," he describes. "There's so much that people want from and can do out of these spaces besides what the word 'garden' implies. They're important spaces for local meetings, food distribution, instruction, community programs, and every other way that you can imagine New Yorkers might use open space."
---
NYRP's Gardens for the City program completed the following green space projects in 2022:
BROOKLYN
721 Decatur Garden Association (Ocean Hill)
Brooklyn Youth Sports Club (East New York)
Farmers Garden (Ocean Hill)
PS 1, The Bergen School (Sunset Park)
PS 163, The Bath Beach School (Bath Beach)
THE BRONX
BronxWorks (Concourse)
The Bronx Collab (Wakefield)
International Community High School (Mott Haven)
NYC GreenThumb Rainbow Garden of Life and Health (Melrose)
PS 811X, The Academy for Career and Living Skills (Longwood)
WHEDco, Women's Housing and Economic Development Corporation (Highbridge)
MANHATTAN
Fort Washington Collegiate Church (Hudson Heights)
NYCHA Manhattanville Community Garden (West Harlem)
Union Settlement (East Harlem)
Washington Heights Expeditionary Learning School, WHEELS (Washington Heights)
QUEENS
Johnson Academy Pre-K (Corona)
NYC GreenThumb Tree of Life Organic Garden (Jamaica)
Q263, Flushing International High School (Flushing)
STATEN ISLAND
PS 44, The Thomas C. Brown School (Port Richmond)
PS 68, The Port Richmond School for Visionary Learning (Port Richmond)
All photos by Ben Hider unless otherwise noted.