Annual Report 2022: Growing Community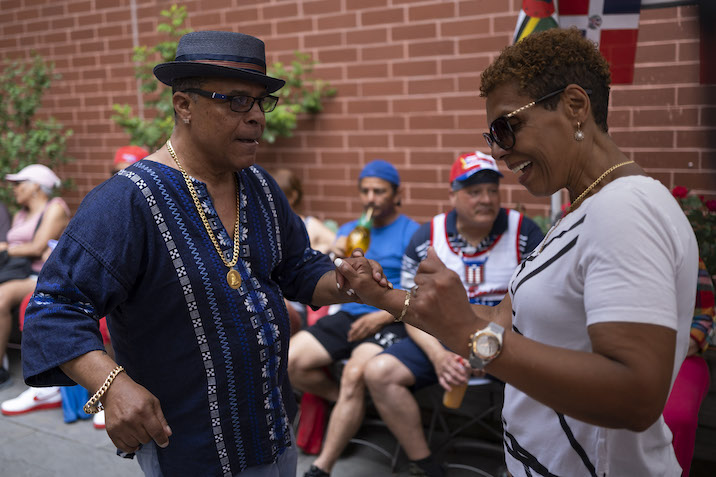 The following blog post is an excerpt from our 2022 annual report.
New York Restoration Project's public programs returned in full force in 2022: from March through October, we hosted more than 100 events. "Programming came back in a huge way," describes Senior Engagement Manager Jessica North. "In some ways it was even busier than before COVID in 2019."
The season began with the return of NYRP's beloved free tree giveaway program after a two-year hiatus. NYRP distributed 2,000 native species trees across all five boroughs, partnering with elected officials, botanical gardens, libraries, schools, and community groups to get these saplings in the hands of local residents. The giveaways had such a high demand that we've increased the free tree count to 3,500 in 2023.
NYRP's 52 community gardens officially opened at the beginning of April with membership inquiries reaching new highs. NYRP-led programming helped welcome new and existing members back into our spaces with fitness classes, cooking demos, movie nights, musical performances, art classes, and back-to-school giveaways among other family-friendly activities.
"It's hard to overstate how useful our spaces can be when you live in the city," reflects Public Programming Coordinator Mike Horwitz. "There's a lot of concrete around all the time, so having easy access to greenery and nature is good for your health. That time's all the more meaningful when you actually participate in an event in that space."
One of the ways NYRP has best helped people connect with our gardens is through our Urban Agriculture program. For two years and counting, the program's charge has been to support the network of over 700 active gardeners in NYRP's 52 portfolio gardens. The program also supports urban growers in partner spaces across the city to grow more food.
View this post on Instagram
Deputy Director of Urban Agriculture Corey Blant believes the best way to do this is to meet gardeners where they are. "So many of the gardeners we work with have a wealth of first-hand and ancestral knowledge. Many folks come from cultures with deep agricultural roots," says Corey. "Whether someone is growing food for the first or hundredth time, our NYRP Urban Agriculture team is here to help people make the most of their space."
In 2022, the team was able to do this through 130 different skill shares, workshops, and consultations attended by 950 gardeners throughout the season, with interpretation provided in Spanish, Cantonese, and Bengali as needed. Event topics ranged from plant selection, soil health, and pest management to learning how to grow edible mushrooms and starting a 3-bin composting system.
Several workshops and events were offered in partnership with subject matter experts offering knowledge on a highly specific topic. "New York City is full of urban agriculture pros specializing in pretty much every aspect of food production," says Corey. "We've started formalizing those relationships this season and I look forward to widening the scope to eventually include all food-growing experts, whether they're based in the city or not. There's a lot of knowledge we can all share."
All photo by Ben Hider unless otherwise noted.