Annual Report 2022: Building Urban Resilience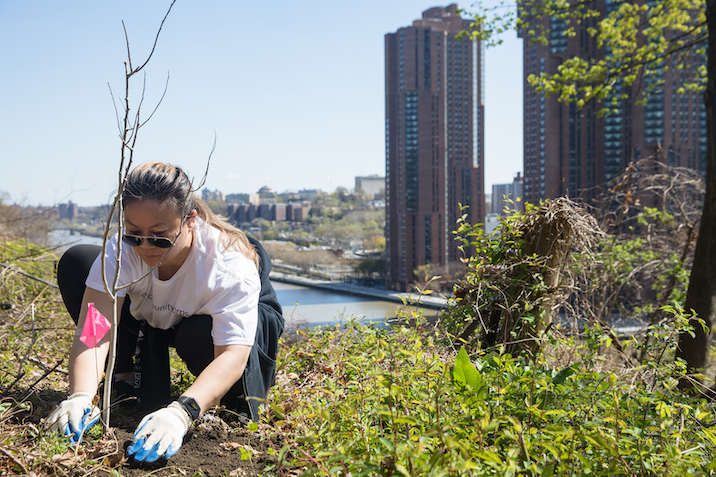 The following blog post is an excerpt from our 2022 annual report.
When NYRP first started working in Northern Manhattan parks in the mid 1990s, they looked nothing like the verdant open spaces they are today. Dilapidated boat docks crumbled into the Harlem River, mountains of old tires littered steep hillsides, and abandoned cars were left to rust. Even calling certain areas parks felt inaccurate to many local residents; these were neglected landscapes used as dumping grounds.
Now, over 25 years later, there are few obvious traces of this history. Highbridge Park is a diverse and recovering native forest; Sherman Creek Park features a living shoreline (complete with an artificial oyster reef) to act as an erosion buffer from the rising Harlem River; and NYRP continues to remove litter daily from the 80+ acres of parkland we oversee in partnership with the NYC Department of Parks & Recreation.
Our overarching goal in both Highbridge and Sherman Creek has always been to restore and maintain robust native ecosystems while keeping the parks accessible and inviting for visitors. This has been a long-term undertaking, but in 2022, we saw several important developments that underscored the effectiveness of our approach.
One exciting milestone was the completion of tree restoration plantings throughout larger swaths of Highbridge Park. While there will always be smaller tree plantings to complete as we continue to restore the forest, the 1,400 trees and plants added in 2022 effectively completed the large-scale planting plan for the northern half of the park.
One tree species we have been especially excited to plant is a hybrid variety of the functionally extinct American chestnut. Once called the "Redwood of the East," an invasive fungal blight wiped out the tree during the first half of twentieth century. NYRP now operates and monitors the largest urban trial to help restore the species to its native range in partnership with The American Chestnut Foundation (TACF). We have planted and now monitor over 300 hybrid American chestnut trees in Highbridge in partnership with the New York City Department of Parks & Recreation.
"The Highbridge planting is unique in its purpose," explains Sara Fern Fitzsimmons, NYRP collaborator and Director of Restoration for TACF. "Urban forestry has been around for a long time, but urban forestry in the realm of restoration of tree species is new. This is a unique and innovative project that NYRP is putting together, and I can't wait to see it blossom into other similar work."
View this post on Instagram
NYRP Director of Northern Manhattan Parks Jason Smith's favorite success of the past year is Sherman Creek Park's living shoreline. NYRP installed the nature-based design along the banks of the Harlem River in 2020 to curb erosion and nurture thriving wildlife habitat in Manhattan's largest remaining wetland. There are multiple design elements, including an artificial oyster reef and wetland grass plantings, which help prevent the waterfront park from washing away.
"The biggest story for me for the past year is that the shoreline's wetland grasses have established and are growing very well," describes Smith. "They were replanted in the spring with Bloomberg volunteers after geese had stifled previous attempts. We rebuilt a stronger goose-exclusion fence to protect this new planting and it has allowed the wetlands to really thrive this year."
Looking ahead, Smith is excited to hone environmental analysis of the shoreline while creating more specific and detailed maps of Sherman Creek that will help us monitor local sea level rise down to the centimeter. In Highbridge, he is also eager to focus more on forest stream restoration, biodiversity assessments, and nurturing the understory.
"We're proud of our work keeping these parks well maintained all year round," reflects Smith. "The fact that we've also been able to take on ambitious restoration projects and see indicators of their success is all the more meaningful and makes us hopeful about the seasons ahead."