Annual Report 2021: Revitalizing Open Space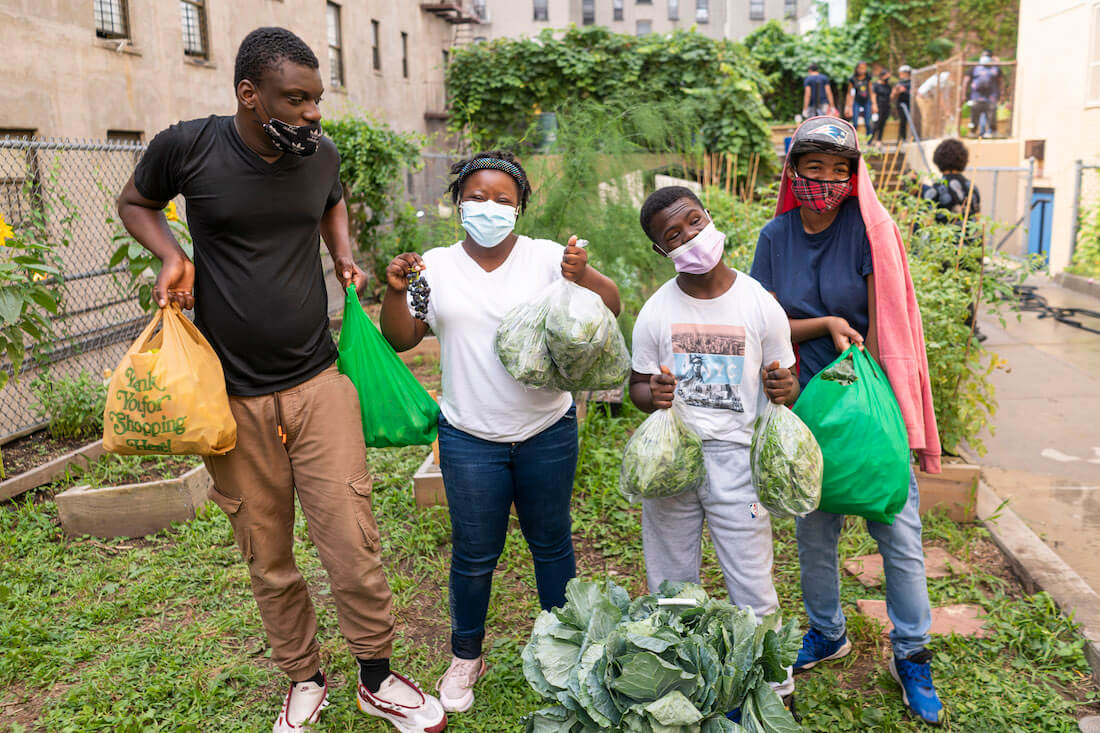 The following blog post is an excerpt from our 2021 annual report.
New Yorkers want to be outside. While 2021 brought some reprieve from the pandemic, the demand for places to simply sit in the shade or spread out in the grass has never been greater.
"We've received tons of applications related to heightened concerns around food insecurity. Schools also want to start growing food and implementing outdoor curriculum," explains Jason Sheets, our Director of Garden Horticulture & Citywide Greening Projects. Sheets leads our Gardens for the City (GFTC) program, which builds and rehabs green spaces in low-income neighborhoods. "Our school partners are especially realizing that teaching kids how to grow food is really important in addition to just having a place to be outside," explains Sheets.
GFTC has built roughly 350 green spaces throughout New York since it began almost a decade ago, including 22 new gardens this year alone. These ranged from transforming city parkland into educational gardens and installing new food-producing plots in a church courtyard, to building a garden from scratch on NYCHA property and reviving an outdoor classroom for students with disabilities that had been closed for over a year.
In October, we completed our biggest green space renovation ever at New Roots Community Farm in the South Bronx. The International Rescue Committee owns the half-acre farm that offers critical services to refugees, asylees, and immigrant communities in addition to nearby residents.
Over three weeks, we engaged over 100 volunteers; built 26 new raised garden beds; installed a 60-foot-by-16-foot-high tunnel; upgraded an existing greenhouse; and planted 131 new perennials, 50 shrubs, and 9 fruit trees. We also installed a new shade structure and a 3-bin compost system and added over 60 cubic yards of fresh soil and wood chips. "We can increase our seed saving project and there are gardeners that want to grow specific, culturally appropriate crops from their homeland," explains Sheryll Durrant, Food and Agriculture Coordinator at New Roots. "We want to see if they can be grown in this kind of climate."
At the same time we built these partner gardens, NYRP's own Bathgate and Aberdeen Community Gardens opened. Following two of our largest, most complex garden renovations to date, we welcomed neighbors back to the spaces for the first time in over two years.
The 10,000 sq. foot Aberdeen location in Bushwick, Brooklyn had been a storage space before renovations, so the neighbors at the first organizing meetings became the group's de facto founding members. The 18 local residents hit the ground running by growing food, hosting events, and creating partnerships all in one season. Throughout the summer, the group organized outdoor movie screenings, open mic nights, and partnered with BK Rot, a bike-powered food waste hauling and composting service, to increase sustainable organic waste disposal in the area by holding weekly compost drop-off days. Their efforts garnered the "Rookie of the Year" acknowledgment at our virtual Gardeners' Gathering, which assembles our 700+ community gardens every fall.
Bathgate in the Tremont section of The Bronx was our "Community Hub" acknowledgment of the year. The garden group used their newly renovated 15,000 sq. feet of space to increase food production and provide resources for neighbors. Throughout the season, the group grew produce to donate to the La Familia Verde Farmers Market, hosted a large community health fair, and organized an unveiling of the garden's new mural by local artist, Dister.
As we head into 2022, there's more interest in our spaces and services than ever. Applications for our GFTC program are at a record level and some garden groups have more than doubled in size. "People have really realized how much more important parks and open spaces are," says Sheets. "The pandemic kind of magnified all that. People know now, more than ever, how vital it is to be outside."