Annual Report 2021: Building Urban Resilience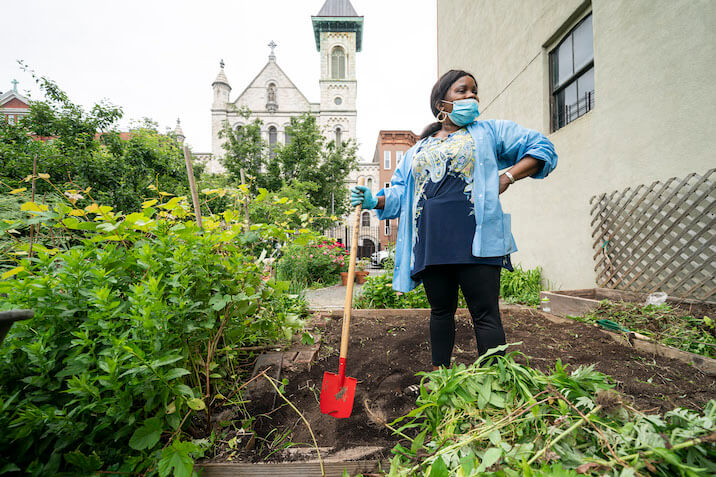 The following blog post is an excerpt from our 2021 annual report.
Perhaps no time in recent history has tested the economic, social, and environmental resilience of New York City more than the past two years. COVID combined with record-breaking and violent weather has pushed the city's limits. Pantry lines are longer, summers are hotter, and storms are more severe.
Underserved neighborhoods have borne the heaviest brunt, including many where we work. While solutions to these larger problems exceed the bounds of any one organization, we have seen NYRP's parks and gardens play a critical role in the communities we serve.
In early 2021, we hired our first-ever urban agriculture specialists to help meet our gardeners' increasing demand for food production. Urban Agriculture Manager Corey Blant and seasonal Coordinator Monti Lawson began the summer with a plant giveaway that reached over 20 gardens and distributed more than 1,500 seedlings across the city. They also designed a five-workshop pilot series with lessons including seed starting, herb growing, pest management, food preservation, and winterizing garden beds.
"Our community gardeners come with a wide range of background knowledge. Some are experts in certain aspects of urban agriculture and others are just starting, but everyone is just so eager to learn," explains Blant. "It's important to weave together this pre-existing knowledge throughout our network and use this as a tool for strengthening our gardeners' skill sets."
In our parks, we continue to maintain and monitor the health and resilience of several distinct ecosystems. The Sherman Creek Park waterfront along the Harlem River is one of Manhattan's last remaining wetlands and a cornerstone of the local neighborhood. It is threatened by climate change-induced erosion and sea level rise (the abutting Harlem River Drive flooded during Hurricane Ida) and to help protect it, we installed a living shoreline that integrates an artificial oyster reef and native plantings.
"The most exciting thing about the living shoreline and big news from this year is that it's working," says Jason Smith, Director of Northern Manhattan Parks. "With the help of researchers from Baruch College, we've been tracking the growth and establishment of oysters on the living shoreline and using that to help make recommendations for other oyster restoration projects around the city," explains Smith.
In addition to the routine maintenance of Highbridge Park, one of Manhattan's last forests, our team has been using the park as a venue to help revive a functionally extinct tree. The American chestnut once thrived along the East Coast before a blight decimated the species almost a century ago. In 2017, we partnered with the U.S. Forest Service, American Chestnut Foundation, and NYC Parks Department to plant 300 hybrid American chestnut trees in the park. The experiment is now the largest urban trial of its kind in the country.
"The Highbridge planting is unique in its purpose and its extent, setting the stage of not just, 'Hey, here's a chestnut, isn't that cool?' But really, let's make it a part of this urban forestry community," explains Sara Fern Fitzsimmons, Director of Restoration for The American Chestnut Foundation. "Urban forestry has been around for a long time, but urban forestry in the realm of restoration of tree species is new. This is a unique and innovative project that NYRP is putting together, and I can't wait to see it blossom into other similar work."