Annual Report 2019: Revitalizing Open Space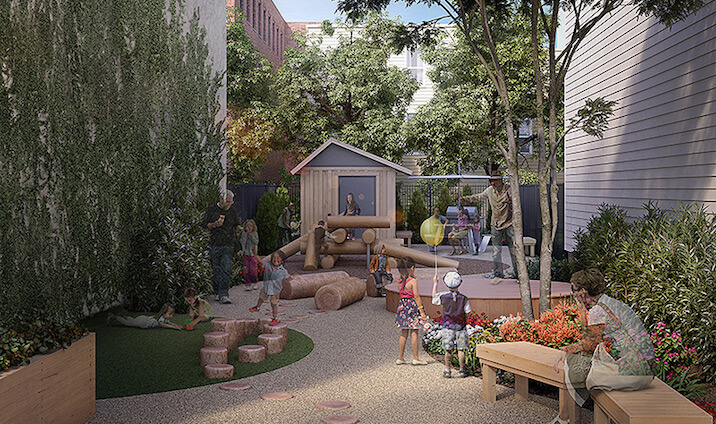 The following blog post is an excerpt from our 2019 annual report that you can read here.
The first step in revitalizing an open space can be as basic as providing a water line. "Irrigation is a lot of work for gardeners otherwise," says Jason Sheets, NYRP's Director of Garden Horticulture. "Carrying water by hand, connecting to a hydrant across busy two-way streets, having hoses bust–just being able to have water on site improves so much for our gardeners."
It's easy to understand then why securing water lines for 14 of NYRP's Brooklyn gardens in 2019 was one of several capital improvement priorities under New York State Governor Andrew Cuomo's Vital Brooklyn Initiative.
The State selected NYRP as a Vital Brooklyn open space grant recipient in 2017, aligning with us to help realize $3.1 million in capital funding improvements for 22 Kings County community gardens (NYRP also completed work at 8 Brooklyn-Queens Land Trust sites).
Keeping our commitment to participatory design process, NYRP's community engagement team began the work by reaching out to garden members and operations staff, requesting their input on upgrade priorities. Water access topped the list.
These lines were just the beginning in some gardens, though. In 2019, NYRP also completed infrastructure upgrades at Decatur, Bedford-Stuyvesant, McLeod's, Target Brooklyn, and Greene Acres Community Gardens that included replacing composting bins and rebuilding tool storage sheds
Additionally, two gardens—Williams Street and Hull Street—underwent full redesign and reconstruction. Williams in particular became more of a gardening and gathering space than it had been previously, adding a raised stage, shade structure, garden beds, and other communal amenities.
"With the assistance of Vital Brooklyn funds, NYRP transformed a blighted site into a field of dreams in an at-risk underserved community," says Williams Street Garden member Bill Wilkins. "It's an urban oasis that's tastefully designed with top shelf plants and infrastructure, and that level of care isn't usually expressed in this community," he continues. "Normally our residents would have to go to the Botanic Garden for this quality of green space but now it's in our neighborhood."
Post-construction, NYRP has helped garden groups fully utilize their new space. Beyond an opening party, this has included movie nights, fitness classes, live performances, and craft workshops among other activities. "These gardens are safe open spaces that are accessible to all," says Public Events Manager Matthew Dain. "Members can host programs with or without NYRP," he assures. "At the end of the day, it's about what the community wants."