Annual Report 2019: Cultivating Environmental Leaders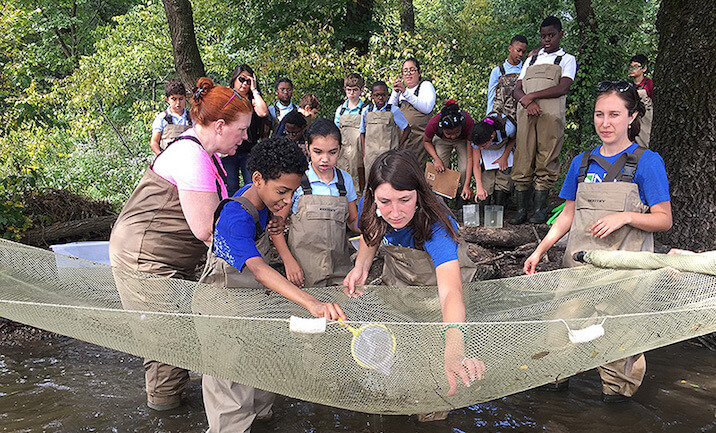 The following blog post is an excerpt from our 2019 annual report that you can read here.
One of NYRP's classrooms is in Manhattan's last remaining salt marsh. At high tide, our team of four environmental educators suits up local 3rd-8th graders at Inwood's Swindler Cove. Flanked by staff, two students at a time wade into the Harlem River with a seine net, hoping to snag some sign of life.
It's not surprising that most of these city kids have never been face-to-face with a live fish, let alone while standing in the New York Harbor. Understandably, trekking into the silty shoreline for the first time can be intimidating. "We sing, we chant, we joke… we make it silly, fun, and physical because sometimes [seining] can be a scary thing for students," says environmental educator Tess Wenstrup.
It turns out, though, that actually catching a jellyfish, crab, eel, or whatever turns up in the net ignites students' best instincts. "First they're surprised to see a huge fish flopping around and spraying water all over," says Tess. "But then the students get this determined look when they pick up their fish. They seem to take ownership and are just really proud."
It's transformative moments like these that motivate our next generation of environmental leaders. "[Our students] were buzzing about it long after we left and I know it made a huge impression on all of them," says Rosemary Puckett of BioBus, one of our local nonprofit partners that helps minority, female, and low-income K-12 and college students discover, explore, and pursue science. "Perhaps [we even have] some future ecologists and just humans who feel responsible for observing and caring for their ecosystem."
These kinds of immersive lessons can also be critical since many participating schools don't have any science teachers and look to organizations like NYRP to fill in the knowledge gap on everything from photosynthesis to climate change. "This work speaks to anyone," says Director of Educational Programs Nina Salzman. "Seining in particular reveals that there's life in the river that they can see and touch," she adds. "The experience can spark desire to care for the river because it's not a lost cause–there's still life there worth fighting for."