Annual Report 2019: Building Urban Resilience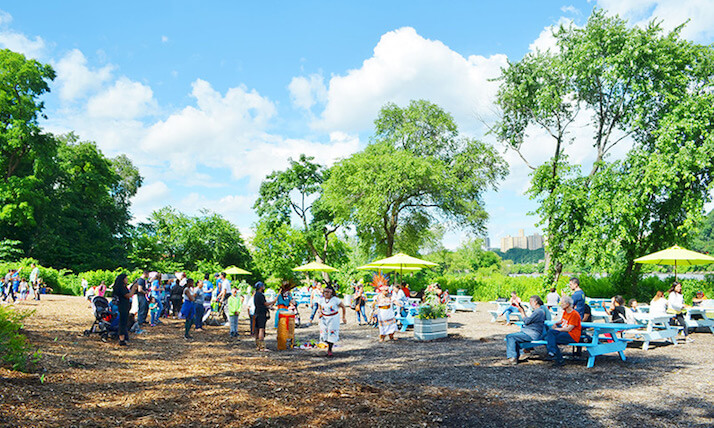 The following blog post is an excerpt from our 2019 annual report that you can read here.
We often hear about New York's vulnerability as climate change churns: sea levels rise, the heat island effect intensifies, Hurricane Sandy was just a warm up. But is it possible to imagine an environmentally resilient city that lessens climate change's consequences instead of contributing to or being subject to them?
This is one of the questions we're investigating with our living shoreline work at Inwood's Swindler Cove. "This site is actively mitigating climate change," says Director of Northern Manhattan Parks Jason Smith. "We expect it to substantially improve the carbon storage at this location, as well as the water quality."
Our living shoreline work began in 2017 as part of an effort to protect and expand a small patch of salt marsh–the last remaining ecosystem of its kind in Manhattan. In 2020, Swindler Cove will become a multifaceted example of what an environmentally resilient New York waterfron could look like, including installing an oyster reef, adding more wetland plantings, and making structural improvements. We will also begin plans for incorporating this work into our education programs at the site.
Additionally, we have partnered with Baruch College professor Chester Zarnoch and his students to measure the environmental impact of what has become NYRP's largest scientific research project to date. Chester and his classes gather physical, chemical, and biological data at Swindler Cove, bringing in additional funding and technical expertise to support our work.
"Empirical research on the ecosystem functioning of these projects lags far behind investment in their construction," says Chester. "It's my belief that research projects should be integrated in these large-scale restoration projects to learn how to make them more successful while also achieving greater ecological and social impacts," he continues. "Our collaboration with NYRP provides a unique opportunity to integrate research into an existing project. What we learn at Sherman Creek will be helpful to future living shoreline projects in New York City and beyond."
A city shoreline isn't really living, though, unless people are present, too. "Our pop-up park and fall festival at the site, for example, illustrate how this kind of soft, accessible environment is also part of a strong community," Jason says. "We want to have people at Swindler Cove and Sherman Creek Park. Even if we're not talking about wetlands, the site is doing its job in terms of building a resilient neighborhood."